Josh McCown Wood Chopping His Way Out of Starting QB Job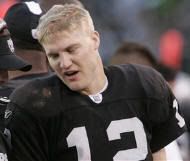 LBS reader and commenter Jeff emails in with the story of Dolphins quarterback Josh McCown (he's with the Dolphins now???) who is doing his best to play his way out of the starting quarterback competition. With Chad Henne and Cleo Lemon as the other candidates, McCown actually has a legit shot. Or had, shall we say, since he just injured his hand. From the Palm Beach Post:
McCown said he suffered the injury while cutting wood with his brother, a back-up quarterback for the Tampa Bay Buccaneers. The McCown brothers had cleared trees in a lot near a lake back home Texas and decided to cut some of it up into firewood.

McCown was holding the wood when his brother grazed his finger with a chainsaw.

"It was kid of some miscommunication about where we were cutting," McCown said.
Yeah, a miscommunication, you don't say. This ranks right up there with some of our other classic weird injuries on the site. I'll leave the final word to Jeff who sums things up perfectly: "What schmuck of a QB who makes millions with his hands would be out cutting wood. Isn't that what he's supposed to use the money for. Have someone else cut it for him." Couldn't have put it better myself.