Marvin Harrison? Guns? Really?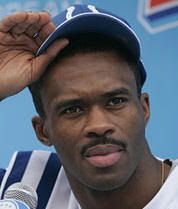 Never, in a million years, did I think I would be posting anything about Marvin Harrison that didn't have to do with his excellent play on the field. But alas, in a world where Karl Malone is impregnating kids who watch Nickleodeon, nothing can come as a surprise. Starvin Marvin's being investigated for a shooting in the Philadelphia area. The crazy part of the story to me comes from a WIP source in Philly that says Harrison has a Belgian gun and that several bullets that hit the victim match the Belgian gun. The victim was hit in the hand, in case you were wondering. But what the heck is Marvin Harrison doing having a Belgian weapon?
As shocked as I was by this report, SpinMax emails in to make sure you all recall this is not the first brush with the law for Harrison. Back in 2005, he was accused of assaulting a few kids in Hawaii. I'm not sure what happened with the case but I don't think anything materialized since we haven't heard anything about it. I am just stunned that Marvin Harrison — squeaky clean Marvin Harrison — is being investigated for a shooting and it sounds like he did it. Not surprisingly his agent says nothing happened. The Colts meanwhile have had no comment on the matter. I can't wait to see how this one turns out.