Matt Jones Didn't Even Know His Team's Plays Last Season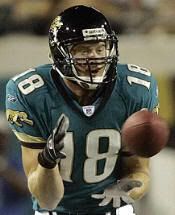 Not too surprising for a coke head. I'm not sure about the extent of Jones' ignorance towards the team's playbook, but the words come from a pretty reliable source — John Madden via the fine folks of Rotoworld. As the top fantasy source on the net puts it:
NBC's John Madden said during Thursday's Jaguars/Redskins game that WR Matt Jones didn't know the team's plays last season.
It's not exactly surprising as there have been whispers about Jones' commitment level for quite some time. Madden got the goods from David Garrard, who told him that Jones was on the right page this season and could emerge as the team's go-to receiver.
I'm not shocked to read this either considering Jones' off-season habits. This strikes me though as one of the comments that's supposed to be taken as off the record. I'm guessing David Garrard won't be too happy to hear that Madden said that over the air, but I could be wrong. Perhaps it's best that this piece of info got out since it explains why Jones has been such a flake on the field. I'm also figuring Garrard told that to Madden to give them an example of why they should expect big things from Matt Jones this year, saying as a throw-away "Yeah, he didn't even know the plays last year." Still, with all the practice squad and college guys out there dying for a chance, it's sad to see Jones wasting his talent like that. It's an insult to the game.