Pat Williams Picks on Toby Gerhart During First Day of Camp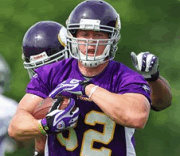 Oh boy, the race baiters are going to have a ball with this story. On his first day of training camp with the Vikings in Mankato, Minnesota, running back Toby Gerhart got a "welcome to the NFL" hit from defensive lineman Pat Williams. The impression based on reports is that Williams went out of his way during a pads and shorts drill to level Gerhart with the "biggest hit" of the morning Saturday. Williams is making it clear that his hit was intentional as pointed out by Pro Football Talk:
"I don't care who it is, man," Williams said. "This ain't college no more. They're grown mans out there. (Expletive.) Paying these college boys like they already played before, so (expletive), we just show 'em. This is a different breed out there. This is grown men. It ain't boys no more. But they pay 'em like they done played in the NFL now."
Clearly Williams harbors more animosity towards rookies than your typical veteran and isn't afraid of showing it. One has to wonder where this attitude comes from. I'm guessing 75% of Williams' anger towards Gerhart is a rookie thing, 20% is because Gerhart got paid and was a day late to camp, and maybe 5% is because Gerhart is a white running back.
Gerhart is joining an extremely exclusive club, and by exclusive I mean limited. The list of successful white running backs in the NFL includes two names: John Riggins and Craig James. Maybe some players, Pat Williams included, will be out to prove Toby Gerhart that he's out of place. Perhaps that was part of the motivation behind this "welcome to the NFL" hit, and I'm guessing Gerhart realizes there could be plenty more of this to come.
Sources:
Pat Williams welcomes Toby Gerhart to the NFL [Pro Football Talk]
Pat Williams delivers hit, words to put Toby Gerhart in his place [1500ESPN]