Patriots Getting National TV Snub?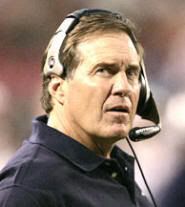 Hey, it's no secret — the most polarizing yet entertaining team in the NFL last year were the New England Patriots. The set all kinds of offensive records, went 16-0 during the regular season, and didn't lose until the Super Bowl (with the exception of the alternate Perfectville world). But along with their regular season greatness came all the questions and doubts about the legitimacy of their accomplishments once the Spygate issue arose. The NFL already punished them by stripping draft picks and enforcing fines, but was there another, more subtle penalty levied for the upcoming season? If you took a look at the schedule for nationally televised games in Week 1, one team is noticeably missing. You guessed it — the Patriots.
I can understand the season getting kicked off with the Redskins and Giants. It's the defending Super Bowl champs against a division rival — makes total sense. The Sunday night game is the Bears at the Colts. I can buy that one, I guess. I'm kind of surprised though; Bill Polian said NBC told him they didn't like televising the Colts at home because Indy posted too many blowouts which made boring TV. Then the Monday Night games, generally two on the opening weekend, will be Vikings at Packers and Broncos at Raiders. Honestly, you're telling me you couldn't fit the Pats in that primetime schedule? Seriously? I really wonder if there isn't something fishy going on because I can't believe there's a team most people would rather watch than the Patriots in week one.