Raiders Show Why They're the Raiders, Select Biggest WR Bust Heyward-Bey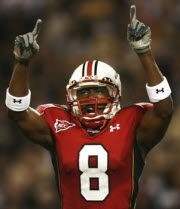 If there's one player in this draft that I'm confident will wind up being a bust, it's Darrius Heyward-Bey. Because Maryland's quarterback was a local kid from LA, Chris Turner, I saw a good amount of their games and paid attention to what they did. Let me tell you this: I never once remember hearing or seeing Darrius Heyward-Bey, and that's part of my biggest concern with him. How is it possible for a guy who's supposedly a top-10 pick in the NFL draft to be so easily taken out of games in college? For an 8-4 team, does 42 catches, 609 yards and 5 touchdowns impress you? That doesn't seem too impressive for a 12-game season. Heyward-Bey only had one game where he caught more than five passes and that also was his only 100-yard game of the season. Does that scream out game-changer to you? Me neither.
Al Davis and the Raiders are running the team the same way they did 30 years ago when Davis was a genius — playing the speed game. Heyward-Bey ran one of the fastest, if not the fastest 40 times at the combine. Darrius ran a sub-4.30 40 which was a time good enough to get Chris Johnson drafted from East Carolina in the first-round by Tennessee last year. Speed certainly is a weapon, but I'd be more concerned with taking a player who's more of a play-maker with great route-running abilities and hands. Speed alone wouldn't make me take a guy with the 7th pick in the draft. I feel sorry for you, Raider fans. You needed a big-time receiver and instead you got a speed demon who can be taken out of the game without much trouble. Way to rebuild the franchise, Oakland. Thanks for playing.