Record-Setting Raiders Win Eases Fan Pain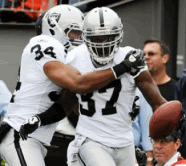 Call it the Chucky Curse, the Oakland Raiders haven't won more than five games in a season since 2002, the year they went to the Super Bowl and lost to former coach Jon Gruden. Since losing that game, the Raiders joined the Detroit Lions as one of the laughingstocks of the league and amongst all fans. Yet on Sunday, the Raiders blasted the Broncos in Denver scoring 59 points, simultaneously easing the pain of the embarrassment from the last seven years.
The first time I glanced at the TV and saw the score Sunday, I couldn't believe it. While other afternoon games were just starting, the Raiders were already up 21-0. A quarter and a half into the game, they were already up 38-0. They settled for a 59-14 drubbing which was a franchise record in points, but it could have been much worse. Check out some of the records they set in the win:
> 59 points – most in team history
> 8 touchdowns – a team record
> 4 touchdowns for Darren McFadden, tying a team record
> 328 rushing yards, 3rd most in team history (28 shy of the team record)
> 5 forced fumbles (two recovered)
> Jason Campbell set a career high in passer rating, McFadden in rushing yards
Broncos coach Josh McDaniels had no choice but to apologize to the team and fans after the hideous loss. It's rare that we see an NFL team come into a game so unprepared and lose by such a margin at home — they should be embarrassed. As for Raiders fans, they've taken a beating for almost 10 years. It's about time you've had a chance to finally gloat. Though the chances of Darren McFadden running the team into the Super Bowl, as one fan told me, is highly unlikely at this point.
Photo Credit: AP Photo/ Jack Dempsey