Terrell Owens: Blame Romo and Garrett for Me Being Cut by Cowboys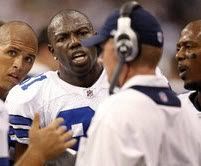 Pretty much only Jerry Jones and a few people inside the Cowboys inner-circle know the real reason why Terrell Owens was released this offseason. Everyone else has a guess at it — albeit a good one — but we don't know the real reason. Now either Terrell was told why he was released and he's shared the reason, or he's just pinning it on the guys he feels are the culprits. Anyway, here's the evidence as it comes to us from Twitter. A comment to T.O. said the fan wasn't happy Owens got released by the Cowboys. Here was T.O.'s response:
neither ws i, blame the OC & romo!! but i'm happy 2 b where i am but i miss the other guys tht were & r true teammates!!
By the way, I feel dirty even posting that comment in it's ridiculously pathetic grammatical form. If Twitter's encouraging such terrible shorthand and bad habits then I'm not about it. I can't wait for the national media (aka ESPN) to pick up on this one and run with the ball. I bet T.O. denies this comment. He could have just taken the high road and skated but apparently he hasn't. And what about the Bills? Giving him a king's entry to Buffalo? They're setting themselves up for serious disappointment.
(via Dallas Cowboys Blog and DC Fanatic's Blog)