Terrell Owens Sticks His Foot in His Mouth … Again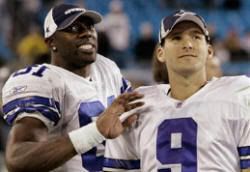 You would think the guy would learn the first time around that you don't rip on your starting quarterback — at least to the media and the free world. But apparently guys like Terrell Owens are the exception. As I posted at FanHouse, T.O. said in a recent Q&A with Time Magazine that he would prefer Peyton Manning and Donovan McNabb over Tony Romo:
If you could choose any quarterback in the NFL to be the No. 1 in Dallas, who would it be and why? Patrick McLeod, PANAMA CITY

Man, that's a tricky question. I don't want to cause trouble … O.K., I would say Peyton Manning, then Donovan McNabb. Peyton has history on his side, with his dad being a quarterback, and you can't say enough about how studious he is in the film room.
I guess the man just doesn't learn. Recently, Roy Williams did a radio interview and said he wouldn't want any other quarterback than Jon Kitna throwing to him. That's quite a stretch, but that's the type of confidence one player should have in his teammate, particularly when you're talking about a receiver/quarterback relationship. In another question, T.O. also said he's grown more fond of McNabb, who I feel without question, is one of the best quarterbacks in the league.
Do you regret how your relationship with quarterback Donovan McNabb turned sour in Philadelphia? David Sansone, PHILADELPHIA

You know what? I do regret some of the things that happened. Donovan is a great guy. Honestly, I do miss being around him. I learned some things from Donovan. It was a bad situation, and if there were a way I could go back and handle some things differently, I definitely would.
Now that sounds a heck of a lot more mature. Too bad the guy had to be stupid again and toss his teammate under the bus in the other answer.