Tony Romo and Jessica Simpson Again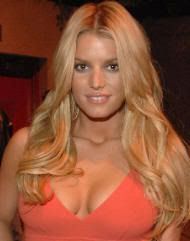 Wow Tony, it's getting tough to keep up with you. Last year there were rumors of you dating Jessica Simpson, but you put those to rest. Next it was Carrie Underwood. Most recently, it was hottie Sophia Bush. Then there was the whole Britney Spears incident. And now back with Chestica? At least that's what In Touch Weekly is saying:
It was the day after Thanksgiving but Jessica Simpson's family was more than happy to hold off their dinner so she could return home with her new boyfriend, Dallas Cowboys quarterback Tony Romo.

The couple showed up at Jessica's grandparents new home in Waco, Texas, on November 23 (a day late, since Tony had a game to play on Thanksgiving) and received a "heroe's" welcome from Joe and Tina Simpson and Jessica's grandparents, according to an onlooker. While Tony has denied reports that he and Jessica are dating, insiders say the pair are definitely involved and they're getting more serious.
Tony, you're quickly establishing yourself as the Derek Jeter of the NFL. But hey man, whatever works, you know? Brady's nailing a super model and setting records, Romo's kicking ass and working Jessica. Hmm, maybe that's just what Eli is missing …
UPDATE: Romo and Simpson are officially dating and were even photographed on vacation together in Mexico.