Dalai Lama Is the Only Person Who Doesn't Know Who Tiger Woods Is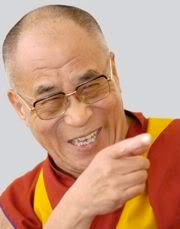 Here I was thinking that Tiger Woods was the biggest story in the entire world. ESPN, ABC, NBC, FOX, and CNN told me so. The Dalai Lama said otherwise. The Buddhist spiritual leader was chilling in Beverly Hills over the weekend getting prepared to make a speech in support of Whole Child International when he was asked about Tiger Woods. The best part is he's probably the first person I know of who wasn't aware of Woods' existence so he had to be briefed on the situation. The worst part is he slammed Tiger for not following his Buddhist faith:
[Dalai Lama said] when it comes to adultery, "all religions have the same idea."

"Whether you call it Buddhism or another religion, self-discipline, that's important," he said. "Self-discipline with awareness of consequences."
Tiger may have been the first public figure in America to invoke Buddhism when lamenting that he strayed from his faith. With that inclusion, he checked almost every aspect of the ideal public apology in the handbook: blame yourself, say you've found religion, remind everyone you're human, conclude that you need help. It really is that simple. As a bonus, Tiger will also receive total consciousness on his deathbed. That has to be reassuring.