Michelle Wie's Pulling Out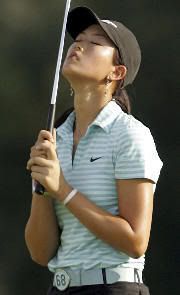 But let's be fair, that's what you were hoping to do with her. Heyo! This news means Wie won't be playing in the John Deere for the first time in three years. It's a sad day for the Wie family. From the wire:
Wie decided Tuesday to withdraw from the John Deere Classic as she tries to return from wrist injuries that have sent the 17-year-old from Hawaii into a deep slump of high scores and shrinking confidence.
Here's the deal, I'd rather have her withdraw not because of a wrist injury, but because her parents realized it was detrimental to her career. Still, this is a step in the right direction, and one that I commend. I hope we don't have to see little 'ole Wie in any men's tournaments any time soon.