Mission: Humanize Tiger a Success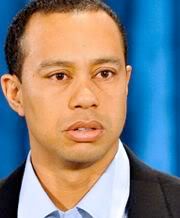 By now we've all deconstructed the Tiger Woods apology statement as if it were the Zapruder film (back and to the left!). Many people feel Tiger came across sincerely while others feel his statement was too contrived. I'm one who feels Tiger's statement was too prepared and too scripted to be completely satisfied by the apology. If I were grading the statement for how it was written and the themes the P.R. staff preached, I would give it an "A," but I wish it were Tiger speaking more sincerely. I'm in the minority because most people bought the sincerity of the apology and forgave Woods. Accordingly, they bought into one of the biggest messages Tiger's people wanted to communicate: Tiger's human.
Throughout his life, Tiger's been portrayed as a deity, an inhuman prodigy placed here on Earth to make golf look easy. He was the spokesman of several companies and pushed as a role model whom we should aspire to be like. Books were written about him and commercials were made with him, all telling us that he was better than us and that he was the model person. Now, Tiger's P.R. team is making its best effort to tear all that down in an effort to sell us the concept that Tiger is human, flawed, and needs help like the rest of us.
One of Tiger's greatest messages was that he needed help. He said he would continue to receive therapy and treatment. He convinced us life was more about what you overcome, not how many majors you win on the golf course. He tried to sell us on a message that he has problems just like all of us and that he wants to be a symbol of overcoming issues. I still am wondering about the issues he talked. What's he overcoming? What therapy? What help? The only help Tiger needs is deciding what tournament to play next. This guy needs to get out of that b.s. sex rehab he's in and focus on his golf game.
While many people have bought into Tiger's message and problems, I haven't. Tiger's convincing the world that he's rehabbing himself for problems I'm still unsure of. Sexual rehabilitation my butt. This is image rehab and image therapy and nothing more. I just hope Tiger gets his crap together and gets back out on the course so we can forget about this nonsense sooner than later. What a waste it would be for him to miss the rest of the season; he has so much more to accomplish in his career.