Why Can't Tiger Come From Behind?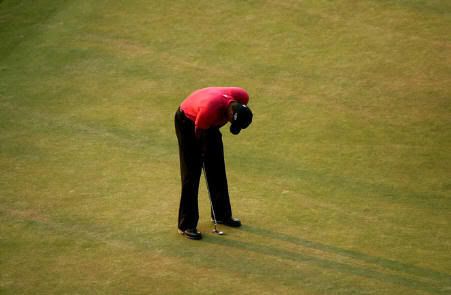 Photo Courtesy Getty Images
Let me make this perfectly clear: I am as far from a golf expert as you can get. I don't play it, I hardly watch it, and that's probably why I don't understand why Tiger Woods only wins tournaments when he's leading going into the final round. It still makes me wonder. I understand that you're not competing against yourself; you're competing against other golfers who can shoot well and similarly lower their scores. So even if you're shaving strokes off your total, there can be another golfer doing even better. That I understand. But if it's a matter of a few strokes to make up in the final round, why can't Tiger come back?
Why is Tiger so outstanding when holding a lead going into the final day (I believe Zach Johnson was the only golfer to come back and beat Tiger in a major on Sunday)? Why can't he ever step up his play and shoot a few birdies to come back and win a tournament? If he's not that far behind, shouldn't he be able to win a major? I don't know too much about competing in tournaments, but I certainly think that should be well-within the cards for the best golfer in the world.