Anna Kournikova Might Be Engaged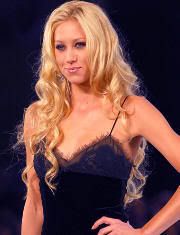 Like I posted at FanHouse, the rumors are floating that Anna Kournikova might have gotten engaged to Enrique Iglesias. I for one, am not a fan of this news. Last we heard, Iglesias had no plans to marry or have kids with Kournikova (thank goodness). But now the reports say the two could be engaged:
Enrique Iglesias has sparked rumours he has proposed to long-term girlfriend ANNA KOURNIKOVA, after the tennis ace was spotted wearing a $6 million (£3 million) engagement ring.

The singer has previously refused to confirm the couple is engaged, but the sportswoman was photographed in London wearing a diamond on her left hand on Tuesday (04Dec07) in London.
Well, I have heard of waitresses wearing rings on their fingers to avoid being hit on all the time. Somehow I think this is slightly different. From Pavel Bure to Sergei Federov and now Enrique Iglesias, I've survived many rumors before. Don't worry, Anna, I'll still be here when you're done with that chump.