No, I'm Not Stalking Pamela Anderson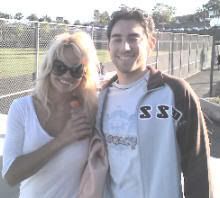 I just happen to follow her around. Capiche? So let me review the quick history between myself and the future ex. I posted a story on AOL's FanHouse a few weeks ago about Pam's involvement with the Pepperdine baseball team. In the headline I even made a reference to her being like their team mom. Then oddly enough, I ran into her on Monday since she happened to be a guest on a radio show where I work. I mentioned that I did a story on her recently, and how popular it became, she was intrigued, and I met her Charger long-snapping boyfriend David Binn, yadayadayada. And then as she was getting ready to roll, she mentioned she would be at Pepperdine's baseball game on Wednesday. Well far be it from me to let my readers down on a promise — I had to show up. And show up I did.
In the middle of the 5th inning — as is typical LA fashion. And my goodness, I can't say enough about the venue; Pepperdine's campus is gorgeous, complete with a view of the nearby Pacific Ocean past the left field wall. I can't imagine a more spectacular place to play baseball this side of Fenway. And walking up the first base line to find a seat, who do I see sitting in the first row behind the home team's dugout? None other than Pamela of course.
She was just like a team mom — cheering for all the players, yelling out for them using their first names like they were her sons. She had to have been pleased too; Pepperdine had a no-hitter going when I arrived. But that no-no was short-lived as some Cal. State Fullerton chump laid one down and reached base when nobody covered first in the top of the 6th. Then midway through the seventh, Anderson got up to take a walk around campus, and when she came back, her sons had their gloves on and were playing catch to the side of the field.
Pepperdine gave up a few runs in the ninth, but closed things out for a 7-2 win. And right at the last out, I went over to approach Pam, reminding her that I had seen her on Monday. She recognized the face, forgot the name, but knew I had posted the story about her at the FanHouse. She proceeded to treat me like I was a first-rate guest, introducing me to all the coaches, talking baseball, talking about her kids, and talking about some of the sporting events she had been to recently. I was completely enthralled.
After a lengthy (and albeit surreal) conversation, I decided it was best to head home before traffic became a bitch. But let me tell you, if you're in the LA area and haven't made your way out to Pepperdine for a baseball game — you should. And if you're not in the LA area but happen to get here some day, work it into your plans somehow. Besides enjoying the awesome Malibu location, you'll also meet one of the best college baseball fans in the country, Pamela Anderson.