Dwyane Wade's Ex-Wife Siohvaughn Wade Is Officially Crazy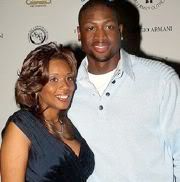 A few weeks ago we ridiculed Siohvaughn Wade's frivolous lawsuit filed against her ex-husband, Dwyane Wade's girlfriend, Gabrielle Union. In the lawsuit, Siohvaughn accused Dwyane and Gabrielle of engaging in "sexual foreplay" in front of the Wade's two sons. Additionally, she went way into the deep end by complaining that Dwyane gave Gabrielle a big present and the sons got medium-sized ones for Christmas. Those two details alone should be enough to clue you into the mind of this crazy lady. If you needed more proof, we now have it.
TMZ reported on Tuesday that Siohvaughn's 9th lawyer (9th!!!!!!) quit. Now I've heard of people firing their attorneys because they weren't satisfied — that happens all the time. But I've never heard of someone going through NINE freaking lawyers. Best part of all, TMZ says it's the lawyer that dumped Siohvaughn. If that isn't enough of a statement to let Siohvaughn know that she's nuts then I don't know what is. Think about it: Dwyane Wade is a multi-millionaire so a divorce attorney for his ex-wife stands to make a ton of money in the case. If they're all quitting on her and not even sticking it out for the money then it must be unanimous: Siohvaughn's crazy!
Sources:
Dwyane Wade's Wife's 9th Lawyer: I Quit Too [TMZ Sports]