Tiger Woods Text Messages to Jaimee Grubbs: Because I'm Blasian!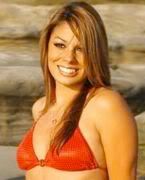 I hope Jaimee Grubbs is satisfied because it seems like she's getting everything she wanted in life: a moment of fame, a relationship with a high profile celebrity, and a lot of money for telling her story. The first pay day came when she released a voicemail from Tiger to US Magazine. The latest pay day came when she released text messages from Tiger that appear in US Magazine. Here's an excerpt of his texts:
One exchange from Sept. 27, 2009 reads:

TIGER: I need you
JAIMEE: then get your tight ass over here and visit me! I need u
TIGER: I will wear you out soon
JAIMEE: how soon? I got a new piercing

A couple hours later that same day, Woods vows to Grubbs "quietly and secretively we will always be together …when was the last time you got laid".

In a text-swap on Oct. 18, Grubbs wonders "why I keep falling more and more for u ;)." Woods' unexpected reply: "because I'm blasian :)."
Tiger once famously called himself a "cablinasian," which is a reference to Tiger's racial makeup of Caucasian, Black, Native American, and Asian. I wonder why he said "blasian" in the text — what's that supposed to mean? These texts remind me of what other golfers on tour have said about Woods before, that's he's funny and a dirty talker in the locker room who cracks lots of jokes. This sounds much more like that person than the one who appears like a robot in interviews. Yes, Tiger will still bounce back from all of this stronger than ever on the course but no doubt this period of time is embarrassing for him.
PICS: TIGER'S ALLEGED MISTRESSES

Rachel Uchitel, Jaimee Grubbs, Cori Rist, Holly Sampson