Stanley Cup Playoffs Arriving Means Hits are Getting Harder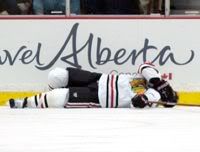 The last couple weeks, NHL players seem to be hitting each other harder and harder. In some cases, like the hit laid on Chicago Blackhawk Brent Seabrook by James Wisniewski a few nights ago, they are literally knocking players out cold. But what's with all the hard hits lately fellas? I might know the answer.
The Stanley Cup Playoffs are a few weeks away and the pressure is on. I don't know exactly what is going through the mind of players like Wisniewski. I don't know if he intentionally tried to lay Seabrook out like a sack of potatoes or if he was "in the moment" and feeling aggressive. But Seabrook isn't the only hit that's been like this lately. There's also his teammate Brian Campbell (who is now out for the season) and Boston Bruins Marc Savard who was knocked out a couple weeks back. These hits are proof that the players aren't messing around and they will be as aggressive as they have to so that they can be the ones hoisting up the Stanley Cup in just a few weeks time.
Although I'm all for being aggressive, I think these guys need to be smart about it. When you are headed towards another player and you're ready to hit him with all you can, remember that you can injure yourself in the process, too. If these NHL players keep making these reckless hits they are not only going to injure their opponent but themselves as well, and then picking up that Stanley Cup will be a difficult task when you have a broken arm.