Tonight's a Must Win for the Pens
Trailing in a best of 7 series 2-1 is never a good place to be. Luckily the Pens have a home game tonight (not as if it mattered on Sunday) to try and even things up. It really bugged the crap out of me that the NHL arranged to have the Sens/Pens play Game 2 on Saturday in Ottawa, and turn around to play Game 3 in Pittsburgh on Sunday. Meanwhile, the Rangers who played on Saturday, are off until today! I guess ratings desperation takes precedence over rationale in this instance. Same thing with San Jose and Nashville — they had two full days in between Game 2 on Friday, and Game 3 on Monday night. Whatev.
Patrick Eaves won't be playing for Ottawa after taking a nasty shot from Colby Armstrong which was — no question about it — completely clean. Sid The Kid is having a good series so far, and by good series I mean much better than Pavel Datsyuk's first five playoff series. Only problem, besides of course the other team scoring more goals and whatnot, is that the Sens are freaking dominating shots on goal like 3:2 (99-66). Pretty hard to win when you're always having to defend the puck in your own zone. So yeah, today is definitely a must-win for the Pens, because if they fall behind 3-1, you can kiss the series goodbye. And you can also kiss my beard goodbye, which is just starting to come in. Witness: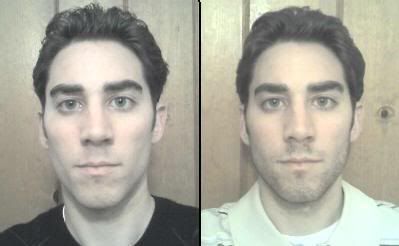 Not bad eh? A win tonight guarantees this bad boy goes until Sunday at the minimum. Here's to the Pens in a must-win Game 4.  Check out PSAMP for more Pens analysis.