ESPN Wrong for Tony Kornheiser's Hannah Storm-Related Suspension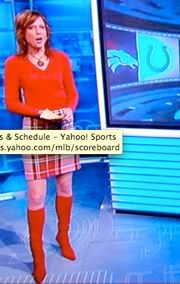 Watching Pardon the Interruption on Monday, I was surprised that Tony Kornheiser was off while Dan LeBatard was in. There were no sports-related activities on Sunday that would have precluded Tony from being on the show so I was could not figure out why he wasn't on. The reason, as The Big Lead tells us, is pretty weak. According to TBL, Kornheiser was suspended for his comments about Hannah Storm's outfit last week on SportsCenter. That is wrong on two different levels.
First, ESPN should have addressed the wardrobe of Hannah Storm a long time ago (her pictured outfit is from last year). Short skirts and long boots have no place on TV where a professional appearance is emphasized. All the male anchors wear suits and ties; the females should be similarly dressed (Erin Andrews should take note). Secondly, ESPN is sending the wrong message to its employees by discouraging them from commenting on their coworkers. They're so large as an entity that they should be challenging each other. While this should be limited to discussing opinions and reports for the most part, I don't see where Kornheiser was wrong to discuss Storm's poor choice of dress considering it's a reflection on his company.
There should have been two outcomes of Kornheiser's comments and a suspension is not one of them. Tony should have apologized to Hannah for invoking her age (whether Storm is young or old has nothing to do with the inappropriateness of her outfit). Tony has already done that. Next, ESPN should have realized they need to tell Storm to dress more professionally. I just want TK back on PTI!