Sports Illustrated Snubs Zach Johnson
Obviously I read Sports Illustrated. Obviously Sports Illustrated bears a load of significance in the sports world. Obviously what appears on the cover of Sports Illustrated is a reflection of the particular time in sports. Obviously I am upset over what was on the cover of this week's issue. Obviously it was a conscious decision to usurp Zach Johnson and his accomplishment of winning a major, with the failings of Tiger Woods. And that disappoints me.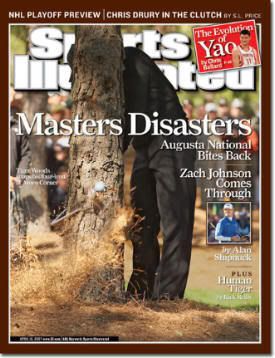 It's not that I'm a golf fan; I cannot properly describe the context of Zach Johnson's victory. I don't know whether or not to liken his win to George Mason making the Final Four, or the 83-78 Cardinals winning the World Series. I cannot tell you that. But what I do know is that he won The Masters. Yes, you can try to sportadox the tournament — did Tiger Woods choke it away (which is the angle SI is taking), or did Zach Johnson steal it away (which is playing a secondary role in all of this). To me that doesn't change the overarching story, that Zach Johnson earned his day in the sun.
The Des Moines Register took issue with the cover as well, considering Johnson is a native Iowan. Here were Johnson's comments in response
"Does that surprise me?" Masters champion and Iowa native Zach Johnson said today. "Absolutely not. That's probably a good thing."

…

"That's fine. I'm happy he's on there," said Johnson, who plays in the first round of PGA Tour's Verizon Heritage at Hilton Head, S.C., on Thursday.
Johnson may not be making a stink about it, but deep down it has to hurt. Yes, Tiger failing to win will most likely have greater historical significance in the big picture. Does his fall now change the outlook for his opponents on Sunday? Did Tiger lose his stripes? Is it no longer a given that Tiger will wrap up a major he's leading in the final round? Yes, these are all more important issues in the context of golf's future. But still, I believe the cover should be a reward for the accomplishments of a player, not his failings. Let me ask you this, if Peyton choked in the Super Bowl, would it have been Rex Grossman on the cover, or Peyton Manning? That's what I thought.
Sports Illustrated consciously erred in this case, and I hope they make up for it.  Zach Johnson deserves it.