YES Network Letting Announcers Criticize the Yankees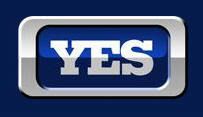 When you're running out a pitching staff that includes the likes of Darrell Rasner and Sidney Ponson, you can't be very good. To be fair, with all the injuries the Yankees have had, they've become a shadow of what they have been every other year they've made the playoffs. Wang, Hughes, Joba, A-Rod, Posada, Damon, and Matsui have all spent time on the D.L. this year — that's one heck of an All-Star team right there. Anyway, I'm assuming the 12-1 loss to the Angels on Monday sparked some negativity that emanated from the Yankees TV booth — the YES Network booth — a network owned by the team.
"At some point, somebody has to be held accountable," [broadcaster Michael] Kay said during a lopsided loss to the Angels, blasting the team for its "glass jaw."

Ken Singleton and John Flaherty jumped in, leading to a substantive analysis of the Yankees abandoning their trademark patience at the plate.
…
Kay's boss, president of production John Filippelli, declined to discuss how YES will handle this lost cause [of a season]. But Kay said Filippelli told him after Monday's rant, "I agreed with what you said, and you have every right to say it."
I'm not sure how the Yankees fans are taking things with their team on the outside this year, but guessing by standard New York procedure, they're probably dishing out a lot of criticism. What's wrong with it coming from the broadcast booth? I think it's more important to be credible than to be a blind homer. It's also nice to hear that the Yankees aren't power tripping over this, either. After all, we know they have their sight's set on next year anyway.