Articles tagged:

Al Davis
To say Al Davis has high hopes for his offense in the near future would be an epic understatement.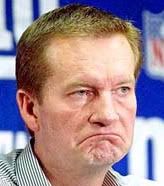 Apparently Jim Fassel is really desperate to get back in the NFL as a head coach. So desperate that he has the death wish to coach the Raiders, which is more of a curse than a privilege.
Like an old man trying to send back soup at a deli, Al Davis, got fiesty at Tuesday's official introduction of Lane Kiffin as the new head coach of the Raiders.