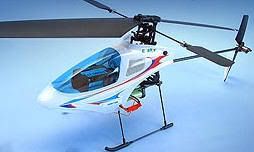 Yes, I realize that clubhouses are like big-kid summer camps, only full of 20 and 30 something year old players rather than 12 year-olds. Yes I realize they play cards and drink, and gamble, and do exactly what 25 men do when they're hanging out together for months at a time. But this? Did I ever expect this to be a form of entertainment for players? Not at all — unless they've been stealing toys from their 5 year-old kids.
The diversion of choice in the visitors' clubhouse at Angel Stadium this week has been a tiny toy helicopter that flies through the air at the command of a remote control device.

Several players, including Victor Martinez and Franklin Gutierrez, have been enamored with the LittleBee Helicopter, flying it around the clubhouse and performing dive bombs into unsuspecting teammates.
What's next, remote controlled cars? Micro-machines? My goodness. How old are these guys? Outfielder Trot Nixon was right on when he said that the players were easily amused. Very easily. I can't IMAGINE why they lost 8-0 on Thursday. No clue.