A New York Yankees fan who fell asleep during a game at Yankee Stadium earlier this year has filed a $10 million lawsuit against ESPN. According to the New York Post, Andrew Robert Rector specifically named ESPN anchors John Kruk and Dan Shulman in the lawsuit and has accused them of taunting him.
Rector alleges that Kruk and Shulman spewed an "avalanche of disparaging words" against him and insulted him with words like "stupor, fatty, unintelligent and stupid." The video above shows Kruk and Shulman mocking Rector, but none of those words were said in that particular clip.
Rector, who admits that he "briefly" fell asleep during the game between the Yankees and Boston Red Sox on April 13, said the play-by-play team taunted him knowing that millions of viewers were tuning in. He claims Kruk and Shulman made "false statements" against him and suggested he "is a fatty cow that need two seats at a time" and "is a confused individual that neither understands nor knows anything about history and the meaning of rivalry between Red Sox and New York Yankee." Yes, the typos come directly from the lawsuit.
The suit names ESPN, MLB and the Yankees as defendants. The entire complaint can be read at The Smoking Gun.
In all likelihood, Rector's lawsuit will be dismissed. Just a gut feeling.
H/T Sporting News
The San Antonio Spurs caused a controversy when they sent home four of their top players prior to a nationally-televised game against the Miami Heat on Nov. 29. They have already been punished by the league for the move, and now they are being sued by a fan.
According to ESPN, attorney Larry McGuinness filed a class-action suit in Miami-Dade County against the Spurs for their actions. He reportedly accuses the Spurs of "intentionally and surreptitiously" sending their players home before the game without the knowledge of the league, team, and fans.
"It was like going to Morton's Steakhouse and paying $63 for porterhouse and they bring out cube steak," McGuinness said, according to ESPN.
McGuinness reportedly bought his ticket on the resale market, meaning he likely paid much more to see a top team like the Spurs than he would have to see a lesser team.
Spurs coach Gregg Popovich sent Tim Duncan, Tony Parker, Manu Ginobili, and Danny Green home to San Antonio before the Thursday game against the Heat in Miami. Though the Spurs played an extremely competitive game and only lost 105-100, commissioner David Stern was so incensed by Popovich's move that he scolded the Spurs in a statement issued before the game in which he promised to sanction the team. Stern fined the team $250,000 for the move.
McGuinness reportedly says he and other fans "suffered economic damages" by paying a premium price for tickets to see a good team that was missing most of its top players.
Popovich acknowledged after the game that he would have been disappointed if he were a fan who bought tickets to the game.
"If I was taking my 6-year-old son and daughter to the game, I would want them to see everybody," Popovich said. "And if they weren't there, I'd be disappointed."
The Spurs were playing their fourth game in five days, and Pop felt it was more important for his players to get extra rest.
We have filed this story in our "frivolous lawsuits" category because we believe that's what it is. There are never guarantees when one buys a ticket for a sporting event. McGuinness should be pleased he got to see a great game. We also think he should stick to labor and employment law, which, according to his LinkedIn profile, is his firm's specialty.
When you are worth around $2 billion and own one of the most successful franchises (from a business standpoint) in all of sports, being served with lawsuit shouldn't come as a suprise. However, something tells me even this one could surprise Jerry Jones.
According to CBS in Dallas-Fort Worth, a woman named Jenelle Carrillo has filed a lawsuit against the Cowboys and Jones after she allegedly suffered third-degree burns on her backside by sitting on a hot bench outside Cowboys Stadium.
"She sat down on this black bench, outside an entrance and unfortunately she suffered third-degree burns as a result of it and had subsequent skin grafts," Carrillo's attorney Michael Walsh explained. "She knew, while she was there at the stadium, that she had received some burns. But she didn't realize how serious they were until she received medical attention."
Walsh said Carrillo spent a week in the hospital receiving treatment for the burns. The incident allegedly occurred in August before the Blue and Silver scrimmage on a day where the temperature rose above 100 degrees. The lawsuit states that the Cowboys Stadium staff failed to alert visitors that sitting on the bench could result in injury.
Maybe we have seen it all.
A 45-year-old woman is suing a 13-year-old boy after being hit in the face by the boy's overthrown ball at a Little League two years ago. Seriously.
The woman, Elizabeth Lloyd of Manchester, New Jersey, was watching her son play a Little League game two years ago and was sitting five feet from the bullpen where Matthew Migliaccio, then 11, was warming up a pitcher. Migliaccio threw a ball that sailed over the pitcher's head and hit Lloyd in the face. She had to undergo reconstructive surgery and says she now suffers from headaches.
Lloyd has hired an attorney who's seeking $500,000 in damages, which is the maximum amount the family's homeowner's insurance covers.
Migliaccio has been forced to retain counsel, and his attorney calls the suit frivolous. We agree completely.
This is an absurd lawsuit. The woman shouldn't be granted any money from the boy or his family, and she should be forced to pay for the boy's attorney. Even though it sucks that she was hit and had to go through the surgery, she should have been aware of where she was sitting. And if there's anyone she should be suing, it's the league, and only for the cost of the medical bills.
Lawsuits have become the new form of wealth redistribution in this country and it sucks. It is one of the major flaws in our legal system and this is a prime example of lawsuits at their worst.
We have a category here at LBS entitled "frivolous lawsuits," and this definitely applies. SF Weekly reports that a sports apparel company in Hayward, Ca. is suing the Giants for stealing their logo. Follow me on this one.
The Giants have been using their San Francisco script logo on uniforms and merchandise since 1993, but they never registered the logo. Gogo Sports specializes in knock offs, and registered the logo in March. MLB tried to trademark the logo a month later, but was told a similar design already existed.
MLB and Gogo Sports have gone back-and-forth over the issue. MLB is telling Gogo to stop using the logo, while Gogo is saying they have trademark rights to it. The Giants are in a good position to win the suit because federal law protects unregistered trademarks. Anyone with common sense agrees. The person who sued the Yankees for stealing their logo fails to see the issue.
H/T to Splash blog
The New York Yankees are the wealthiest team in Major League Baseball and at least one woman is trying to get a cut of their riches. 63-year-old Tanit Buday of Yonkers filed a lawsuit in Manhattan Monday claiming the Yankees stole their top-hat logo "from a design dreamed up by her late uncle in 1936 at the request of then-Yankee owner Jacob Ruppert."
According to the New York Post, Buday is seeking unspecified damages for copyright infringement, unjust enrichment and breach of contract with her uncle, Kenneth Timur.
LBS tried to track down the lawsuit to see the details but the file is not yet available.
Look, Buday is about 75 years late to the party so it's highly unlikely anything will come out of it except for a few laughs. What's sad is she's not the only one looking to gain something from this case; I got an email from a lawyer offering analysis of this case based on "intellectual property." Thanks for the offer, but I think this one is pretty straight forward and easily the dumbest lawsuit we've covered since this.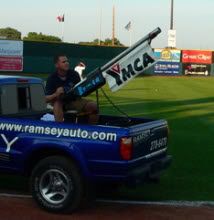 File this story under the header for "Money grabs." Many teams will have giveaways where they launch stuff into the crowd, creating a frenzy as people who just dropped $50 for a ticket, parking, and food, all scramble for a $5 shirt. It makes a lot of sense when you think about it. Anyway, one particular White Sox fan says he was injured from one of these giveaways and is suing the team:
David Babusiak's lawsuit says he suffered a severe back injury after T-shirts were fired into the crowd at a game in 2007. He claims shooting T-shirt projectiles was an "abnormally dangerous activity," especially when some fans may have been drunk.
…
Babusiak of St. John, Ind., filed the suit Thursday in federal court in Hammond. It seeks $75,000 in damages.
Sure, I'll admit that the shirt cannon shooting creates a frenzy for a minute, but so does a foul ball or home run ball hit into the crowd. Don't they have disclaimers on the tickets saying the team isn't responsible for injuries that happen at the game? Even after this guy got hurt I can't imagine it's 75 grand worth. Can't people find better ways of making money?
(via Fark)
pixel2