Articles tagged:

Jeremy Shockey
Jeremy Shockey isn't exactly the most well-liked guy in the league.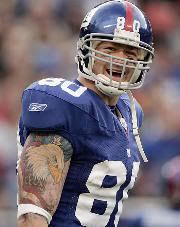 A big topic over the last month of the season that spilled into the offseason was the Giants and their relationship with tight end Jeremy Shockey.

Alright, so the guy you love to hate, in the lineup one week, out the next, hyped up, calling out coaches, making gay jokes about Bill Parcells etc. is out of the playoffs.