Last year's record and finish are in parenthesis with projected improvement/decline indicated by plus or minus.

Florida Marlins (78-84, 4th in the NL East) -4 games

Get Crunked: Miguel Cabrera might be the best pure hitter in the game, second only to Albert Pujols. Year after year the young stud continues to impress, despite not having much protection in the lineup. Josh Willingham popped 26 bombs last year, and 2B Dan Uggla out-slugged Cabrera with 27 bombs to lead the team. The D-Train still anchors the rotation and is one of the better pitchers in the league. Anibal Sanchez came on strong to finish the season, even throwing a no-no. Scott Olsen, Ricky Nolasco, and Josh Johnson were also solid in the rotation last year, but Johnson and Nolasco need to overcome injuries.
Party Foul: They let Joe Borowski go leaving a hole at the closer spot. A lot of the success of this team depends on how the bullpen develops. Injuries to Josh Johnson (who many in South Florida blame on Joe Girardi) and a spring injury to Ricky Nolasco hurt the team immensely; they make an otherwise solid rotation vulnerable.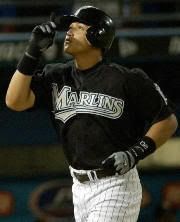 Miguel Cabrera, one of the best pure hitters in the game
What'd my GM do: They beat Miguel Cabrera in arbitration, and certainly beating your team's star player is always something to cheer about. Beinfest re-signed Dontrelle for a year at just over 6 million. Aaron Boone was signed for a bargain and could serve as an option in the infield. Trading Jason Vargas and Adam Bostick to the Mets for Henry Owens and Matt Lindstrom was an under-the-radar deal that could be key for Florida, especially if Owens becomes the closer.
Lay it on me Straight: The team over-achieved last year, which is a funny thing to say about a club that finished 6 games below .500, but given their payroll to start the year, their performance was quite impressive. I would've told you they would finish right around the same place as they did last year, maybe with an improvement of a few games, but that was until Josh Johnson got hurt. That will be costly. Still, Beinfest has put together the blueprints for building a successful small-market team.
So where my boys gonna finish right now: About 8-10 games under .500, which still isn't bad given how little the team costs.
Can we be better than that: Heck ya, if all the rookies avoid the sophomore slump, Jeremy Hermida bursts onto the scene, a few arms in the bullpen emerge, and the starters pitch like they did last year, this will be a .500 club, which is saying a lot.