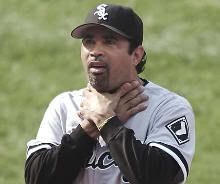 Ozzie Guillen was like a dormant volcano the first two months of the season. You always knew he was capable of unloading one of his Hall of Fame rants but he held back for the most part. Meanwhile typical hot heads like Carlos Zambrano and Milton Bradley already had their moments, but Ozzie remained patient. He decided to wait for the season to develop more before injecting one of his inspiring speeches. And boy, did he get off a beaut after the Sox lost the first game of a doubleheader to the Tigers:
"If this was the 1980s, (none) of these guys would be in the big leagues right now because if you hit .210-.230 and you can't execute, I don't think you should be out here," Guillen said shortly after third baseman Josh Fields went 0-for-4 with two strikeouts and committed an error in the top of the ninth inning that set up the Tigers' winning rally.

"When you can't bunt, hit-and-run, squeeze and move the guy over, you better hit 40 home runs and drive in 140. The only positive about this game was (reliever) D.J. Carrasco and a couple home runs here and there. A little excitement, fans got a little excited, and that's it."

"Is the clubhouse closed?" Guillen said. "We should open it and let them (answer) why they're so horse (bleep)."
OK Ozzie, tell me how you really feel. Sometimes he's just like a toy — wind him up and let him go. Maybe it's when the calendar turned to June that Ozzie officially started to panic, realizing it was time to identify the team as either a contender or a rebuilder. Clearly you know where he stands. Any wonder why he was so critical of the Gordon Beckham promotion?