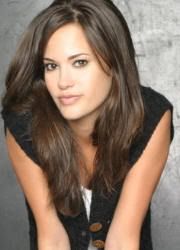 Longtime readers of the site are probably familiar with Rachel Specter. Yes, she's the hottie from the RGX commercials you see airing constantly on ESPN while you're watching sports. She's been working on several movies this summer, and is set to appear in the October issue of Maxim. Luckily for us, I was able to run her down for an interview. We talked about her career, how she landed the commercials, and how her life and popularity has changed since starring in the commercials. Our conversation follows:
How did you get the RGX gig in the first place?
I always wanted to act and grew up doing whatever I could do in Tampa Florida, which is not very much. When I was in college, I spent a couple summers in New York and interned at a talent agency and learned about the whole industry. As soon as I graduated, I moved to LA. I started the way that most people started who didn't really have any connections because I didn't know one single person in LA. I started sending head shots and went through the process of trying to get an agent and then started auditioning. With the commercials, I had done a bunch of national commercials before this so this audition was just like any other audition. I went to it and ended up getting it. For the first audition, I read that they had six commercial spots and you had to read all of them. Then it was funny at the callback a lot of these things that you go to you see different versions of yourself just like all these girls that kind of look similar to you. So it was like walking into a room with all these pretty brunette girls. And I ended up getting it which was awesome because it's been really great for me.