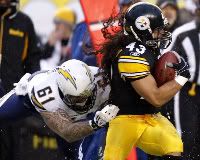 So Sunday afternoon in Pittsburgh the Steelers had just kicked a field goal taking an 11-10 lead on the Chargers. San Diego had one play left after the kickoff and decided to throw over the middle where they attempted to lateral their way up the field. That fun lasted for a few seconds before Troy Polamalu broke up one of the laterals, recovered it, and ran it in for a touchdown that made the score 17-10 Steelers at the final gun (watch the video here). Naturally I was pleased considering the Steelers were one of Doc Brown's picks to cover the 5.5 spread. That fluke play would have given me the win and would have swung millions of betting dollars in Vegas and in the online sportsbooks. Only problem is the referees decided to review the final play where they overturned the ruling, saying there was an illegal forward lateral that killed the play prior to Polamalu's touchdown. Final score: 11-10. Here's the kicker from the San Diego Union-Tribune via Rotoworld:
[Referee Scott] Green ruled (correctly, by the way) that LaDainian Tomlinson's lateral to Chris Chambers was forward, and therefore illegal. But he said the play should have been killed at the spot of that pass, thereby ending the game right there, before Polamalu ever touched the ball.

After the game, however, the league told Green — and Green admitted to a pool reporter — that "the rule was misinterpreted" and the touchdown SHOULD HAVE COUNTED because the ball never hit the ground.
Far be it from me to think that the referees can talk to someone in New York or the league office when ruling on a play from the instant replay booth on the field. Far be it from me to think they told him to rule the play dead and keep it at an 11-10 score since most of the money was on Pittsburgh. Far be it from me to think there's any sort of a conspiracy working here! If there's more proof that some of this stuff is fixed, then I don't know what it is. Or maybe it's some sort of wanna-be makeup call to the Chargers for Hochuli screwing them against the Broncos, not that this would have undid San Diego's loss. There's some fishy stuff going on here I tell you and it all meets the eye!
UPDATE: A statement from the league office confirms the mistake, outlining the rules for the situation