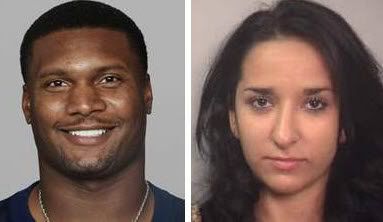 Back when the surprising news came down to ruin the July 4th holiday, it seemed like an open and shut case of murder-suicide for Steve McNair and Sahel Kazemi. The investigation and conclusion by the police didn't take too long but it left many Cold Case fans unsettled. Count Armen Keteyian of CBS as one of those people considering he spent the past three months investigating the case to show that the police may have done a poor job. Keteyian's arguments are that the police cited the wrong day of when Kazemi may have bought a gun, that she wasn't having financial problems (by uncovering a bank statement), and that she wasn't distraught (showing a police video from her DUI stop). Apparently feeling some pressure, the police released some text message exchanges from McNair and Kazemi to back up their case:
Text messages show a woman asked former NFL quarterback Steve McNair to transfer $2,000 into her bank account hours before police say she shot him to death, then turned the gun on herself.
…
Sahel Kazemi texted McNair on July 3 to say she was so stressed she might have a breakdown and asked for money to pay cell phone bills. One text said she might need to go to a hospital because she could hardly breathe. The texts also show Kazemi meeting McNair at the Nashville condominium where he was shot. He asked her to leave the front door open for him.
So far Keteyian seems 1-for-3 on his disputing points, the one being credit for the police erring on the day Kazemi bought the gun. One of the other new developments in the case is that there's a Mississippi woman who claims McNair fathered her child and that she's seeking financial support. Given Air McNair's touchdown dancing ways of the past, I'm not surprised. The bottom line is that maybe nobody will know exactly what happened in the case. I still feel there's the slightest, most minimal chance it wasn't a murder-suicide but I'm not sure how it's going to be proven.