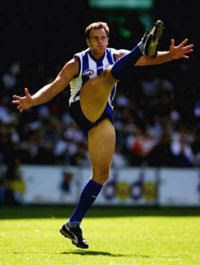 I won't even begin to explain the dudes stats, but I think the story is pretty cool. And this is definitely one of the best leads to an article I've read in quite some time. From the Philly Inquirer
The Eagles signed a potential future Hall of Famer this off-season, and nobody seemed all that excited about it.
Well, yeah. If he ain't catching 65 yard bombs from Donovan McNabb, then what's there to be too excited about? But this actually sounds pretty cool. Saverio Rocca is his name, and he's trying to make it as — ready for this — the new Eagles punter. Woohoo. And OK, I lied, here are his stats: with the Magpies and Kangaroos, Rocca had 748 goals in 257 games — ranking 12th all-time in Australian Football League history. Obviously he's not going to have a huge impact on the game, but can you blame me for being mildly excited about this? I mean, just look at that picture — Aussie Rules is a real man's game!  But on a serious note, I think it's great for the game to incorporate some of the most talented players from around the world.  Baseball, basketball, and hockey already do it, why not football too?