Kickers, you just can't take them anywhere. Not even to play dodgeball.
According to The Miami Herald's Barry Jackson, Miami Dolphins kicker Caleb Sturgis will miss the rest of team OTAs after getting injured at a team dodgerball event. Seriously.
The team decided to have a fun chemistry-building event and played dodgeball, and the kicker managed to injure the quad on his plant leg while playing. Luckily he's expected to miss just two to three weeks and be ready in time for training camp.
Between this and what happened with the Chargers rookie to upset the team, we're seeing that dodgeball is causing problems throughout the NFL. They should know better and leave the dodgeball to the Average Joe's.
Helmet smack to Pro Football Talk
Photo: Caleb Sturgis on Twitter
Chicago Blackhawks goalkeeper Corey Crawford is expected to be out for two or three weeks with a foot injury. How did he suffer a foot injury while wearing skates and tending net?
He didn't.
On Wednesday, Crawford revealed that he injured his left foot while leaving a concert earlier this week.
"I was at a concert the other day and was on the way out and missed a step and I didn't think it was that bad," he said, per Chris Kuc of The Chicago Tribune. "I woke up the next day and it was worse than I thought.
"I'm pretty embarrassed about it, frustrated. Things were going really well. Right now I'm just thinking about trying to get back as quickly as possible and make sure I'm right back where I was (where) I left off."
Crawford would not say whether alcohol was involved or not.
Hey, it happens.
As Deadspin noted, Twitter rumors seem to indicate that Crawford was at the Rise Against and Royal Blood show on Monday night. I couldn't even tell you if Rise Against and Royal Blood is one band or two separate ones, and I don't care enough to Google it. I already know I don't like them.
Washington Redskins cornerback DeAngelo Hall tore his Achilles against the Philadelphia Eagles in Week 3, and he has been working to rehab the injury in order to be ready for training camp next summer. After losing a battle with a slice of pizza, Hall's recovery is going to take a bit longer than expected.
Redskins coach Jay Gruden told reporters on Friday that Hall re-tore his Achilles earlier this week while he was in his kitchen getting a slice of pizza. You can't make this stuff up, right?
Ian Rapoport of the NFL Network speculates that Hall's setback will delay his recovery time by about a month and a half, which means he still should be able to get back in time for training camp.
As we have learned over the past year, pizza can be very dangerous for professional football players. Remember what happened to former Detroit Lions wide receiver Nate Burleson that kept him out multiple weeks? Pizza is no joke.
Detroit Lions tight end Joe Fauria suffered a mysterious ankle injury last week that could cause him to miss some time. He was spotted walking around the team facility on Monday with crutches and a walking boot, and now we know why. Fauria's puppy is to blame.
According to the Lions, Fauria injured his ankle while trying to stop his little dog from peeing inside the house.
"Fauria was trying to stop Lil' Rufio from urinating in the house when he misstepped & sprained his ankle at home," the team's official Twitter account wrote on Monday evening.
Fauria later confirmed it.
"I was hanging out with my dog and he did something bad and ran away from me," Fauria told reporters, via the Lions official website. "I wasn't running downstairs but I was going a little faster than usual and I missed the last two steps. My carpet goes to hardwood and I was wearing socks. I just put all of my weight on my left foot. It was kind of an agonizing pain."
As far as we can tell, this is not a joke. Fauria's dog is three months old, and we must admit he is a handsome little devil. Anyone who has ever raised a puppy can tell you how much work it is and can certainly understand how one would roll his ankle while trying to rush to prevent an accident.
We have heard of athletes injuring themselves while playing with their kids, but this is a new one. The Lions will miss Fauria, especially in the red zone. He caught seven touchdowns last season.
Just when you thought baseball players were the clumsiest athletes of all — and they certainly are — we have a talented football player with a war story that could rival the best of 'em.
Running back Jamaal Charles was hurt last week when he rolled his foot while carrying a box out of a dorm room after the Kansas City Chiefs broke training camp. Yes, Charles missed Saturday's preseason game because he hurt his foot carrying a box.
"He came down a grassy slope there and just kind of rolled his foot over on the curb," coach Andy Reid said via ESPN reporter Adam Teicher. "It was that simple. That was it. He went up to [trainer Rick Burkholder]. … He was hurting that night, and the next day he woke up and he was feeling a little bit better, and he's feeling better today.
"We're optimistic about it. Initially there was some concern. He had all the stuff done on it, the X-rays, the MRIs and all that done on it. Everything is clear."
Was that Charles/the Chiefs' way of keeping him out of a preseason game they might not have wanted him to participate in? Who knows. If so, they need to come up with a better excuse. If not, he may need a professional mover next time.
See many more weird injuries we have covered at LBS.
Jurickson Profar has not appeared in a game yet this season for the Texas Rangers, and from the sound of it the 21-year-old shortstop will not be returning any time soon. Profar was ruled out for 10-12 weeks after tearing a muscle in his shoulder back in March. On Thursday, Rangers GM Jon Daniels said he could miss another 8-12 weeks after aggravating the injury.
Profar recently began playing in extended spring training games, but Daniels said he is not believed to have tweaked his shoulder on the baseball diamond. Instead, it was more of a "baseball" injury — if you know what we mean.
Jurickson Profar thinks he tweaked his shoulder rolling over in bed, says Jon Daniels. Still no surgery.

— Jeff Wilson (@JeffWilson_FWST) May 22, 2014
The bad news about Profar came on the same day it was announced that Prince Fielder could miss the remainder of the season after having a neck procedure, so Rangers fans are likely feeling a bit anxious.
Don't feel bad, Jurickson. You're not the only professional athlete to fall victim to the mattress.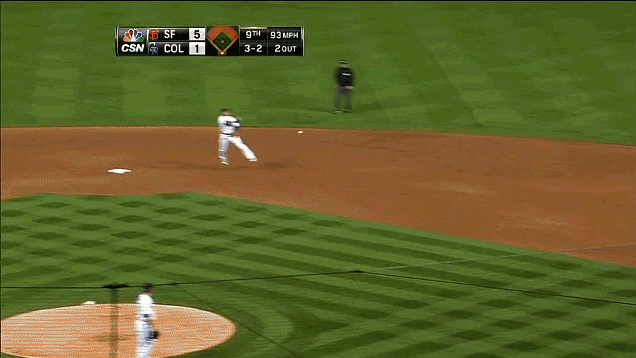 Like most other relief pitchers, Santiago Casilla has had very few at-bats during his career. On Thursday night, the San Francisco Giants righthander experienced the fifth plate appearance of his career and first since 2012. The Giants probably wish they replaced him with a pinch hitter.
With San Francisco leading 5-1, Casilla chopped a ground ball up the middle. He was desperate to pick up his second hit ever, so he sprinted down the first base line and tried to beat the throw. Not only was he unsuccessful, but Casilla fell as he was running through the bag. That's when this happened.
Right hamstring for Casilla, MRI tomorrow. Likely to DL tomorrow, Bochy said. He's talking to Sabean about roster now.

— Alex Pavlovic (@AlexPavlovic) May 22, 2014
To make matters more frustrating, Bruce Bochy said he instructed Casilla not to swing at all during his plate appearance. Sometimes managers know what they're talking about.
Ironically, Casilla is the same guy who walked on four pitches in one of the most pathetic at-bats you will ever see a few years back. Maybe he's still trying to compensate for that.
GIF via Deadspin
pixel2