Ana Ivanovic Gets Her First Grand Slam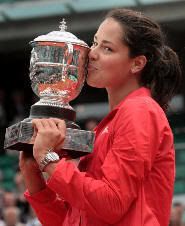 I pretty much had this up and ready to go for the last few days, I was just waiting to sub in a few details like the score she won by. Pretty much everything broke perfectly for Ana Ivanovic to win the French Open title this year, her first major win. First it was the news of Justine Henin retiring, then Maria Sharapova went out early, and the Williams sisters made their exits in the 3rd round leaving the draw wide open for Ana's taking. Ivanovic capitalized and won the tournament without dropping a set, her first major win. It was great to see Ana get the win especially after the way she performed in her last two finals appearances; she got crushed by Henin last year in the French Open finals, and was handled easily at the Australian by Sharapova. Best part is that the win coincides with Ana's rise to No. 1 in the world — she'll have the top ranking when the new ones come out next week.
Now, onto important matters. With a Grand Slam win her pocket and the No. 1 ranking to come, where does this place Ana on the list of hottest top-ranked tennis players of all-time? I say she takes the top spot amongst the No. 1's easily. After the jump, I have some of her competition …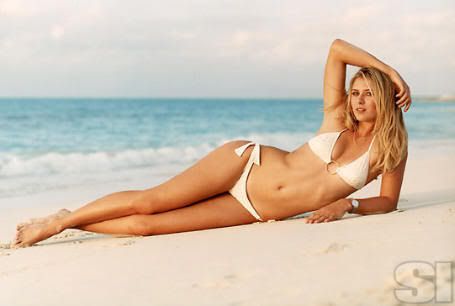 Maria Sharapova has held the top spot on the WTA tour on four different occasions for a combined total of 17 weeks. She proved she wasn't just an Anna Kournikova clone by claiming the top spot, not to mention a Wimbledon, U.S., and Australian Open title.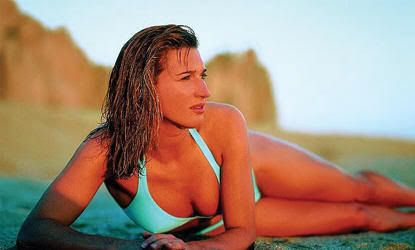 Now just a housewife, there was a time when Mrs. Agassi was a hot, single tennis player. She held the top spot for a record 186 weeks between '87-'91, and then got it back later in '91 and held it on and off to '96 (thanks to the Seles stabbing). Graf held the top spot for a record 377 weeks in her career.
There hasn't been a centerfold of Jennifer Capriati, probably because she was too young to pose when she was actually good looking. After her drug days she returned to the sport bloated and her game was never quite as good as it was when she was young. From late '01-early '02, Capriati held the top spot for 17 weeks.
Serena steamed things up when she posed nude for a magazine shoot recently. Sporting perhaps the most athletic build and curviest body to grace a tennis court, Serena grabbed the top spot in the Summer of '02, and held it for over a year straight for a solid 57 weeks. While her interest in the sport wanes, she's still a top player and looker in the game.
As I said before, there's really no competition. Ana Ivanovic is the best looking tennis player to also be the top player in the world. That's a pretty hard combination to beat. Simply put, she's got it all. Here's to many more weeks at #1 to come.