Roger Federer: 'This Is My Year'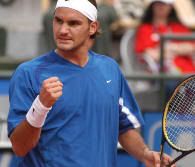 I didn't exactly keep it a secret that I was pulling for Novak Djokovic earlier in the year at the Australian Open when he knocked the king off the mountain. Turns out Roger Federer actually had mono during the tourney and that probably explains why he lost. I bet most players would love to reach the finals of a Grand Slam with such an illness. Anyway, Federer has reached the finals of the French Open and will have the daunting task of facing Rafael Nadal on clay to try and win the major that has eluded him thus far. No worries though — Federer thinks he has this one:
It looks good for Sunday," and then, "I feel I have the right tactics, I have the right game, and I have the fitness to beat him," and then, "We are testing each other, you know, over and over . . . I believe very strongly that this is my year."
It really would be nice to see Roger get the win and expunge the one and only criticism of his career. Is it really his fault that Nadal is 27-0 at the French Open? What can he do about the fact that Nadal has not lost a set at Roland Garros this year? Nadal is almost unbeatable on clay — 114-2 in his career. The only thing standing between Roger Federer and infallible immortality is winning the French. I'm glad he has the confidence this year and the attitude — you need that approach if you want to have a chance against the nearly unbeatable Nadal. This will be quite the match.