Ronda Rousey reportedly wanted by WWE
Ronda Rousey has a lot more going on in her life at the moment than just mixed martial arts. The undefeated UFC women's bantamweight champion has launched her acting career with "The Expendables 3" and "Fast & Furious 7." Might she also be working with the WWE in the near future?
According to Dave Meltzer of Wrestling Observer, WWE is reportedly preparing an offer for Rousey to get her to appear in an upcoming pay-per-view event. Here are the details of the subscription-only report, courtesy of Fansided:
Following her enjoyable visit to WWE's SummerSlam show in Los Angeles on August 17th, The Wrestling Observer says that the company is more interested than ever in doing business with the mixed martial artist.

Her time at and around the Staples Center earlier this month – specifically her interactions with Stephanie McMahon – opened a lot of eyes to the champ and her potential value to WWE. Combine that with her role in Sylvester Stallone's The Expendables 3, a film that disappointed at the box office but which featured WWE-friendly celebs like Sly and Arnold Schwarzenegger, and suddenly Rousey became a figure of great interest to WWE brass.

The Observer believes the company will be making her an offer to do something for them on television and/or pay-per-view (PPV) very soon.
Rousey has quickly become more than just an MMA fighter. She's a full-blown celebrity, and it wouldn't be at all surprising to see the McMahon family try to cash in on her fame. As Fansided reminds us, Stephanie McMahon flashed the "Four Horsewomen" hand gesture toward Rousey when she was sitting ringside at Summerslam. Rousey proudly flashed it back.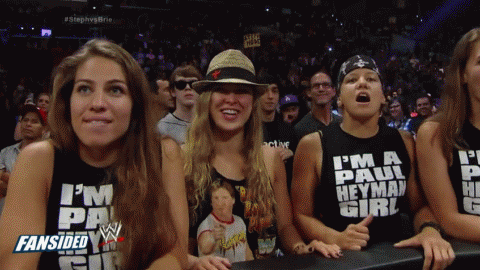 I'm sure it'll happen at some point. Rousey wouldn't be the first athlete to jump between the WWE and UFC, and she has been open about her desire to become a successful actress. As The Rock could tell you, WWE can certainly help with that.