It's pretty clear that there are still some hard feelings from Blake Griffin toward the Los Angeles Clippers.
Griffin made his long-awaited return to Los Angeles on Saturday, and Jovan Buha of The Athletic noted that the Detroit Pistons forward clearly snubbed Clippers owner Steve Ballmer during pregame warmups.
As Blake finished his warmup, Steve Ballmer was on the sideline watching and waiting. When Ballmer saw Griffin finish, he started walking towards him. Blake saw Ballmer and sped up, running away to the Pistons locker room as Ballmer yelled "Blake! Blake!" with his hand out.

— Jovan Buha (@jovanbuha) January 12, 2019
Fox Sports Detroit caught video of the non-interaction.
Blake is truly a Piston now. #DetroitVsEverybody pic.twitter.com/UiAoGi4Yow

— FOX Sports Detroit (@FOXSportsDet) January 12, 2019
Griffin has made pretty clear over the past year that there is some lingering bitterness over how his trade went down, and he showed it in their meeting in Detroit last year as well. This sets the stage for what might be an awkward and frosty affair on Saturday afternoon.
If the Pittsburgh Steelers trade Antonio Brown, the expectation is they can get a nice haul — but not a first-round pick.
According to Ian Rapoport of NFL Network, rival executives believe the Steelers could likely get at least a second-round pick if they opt to trade Brown, and potentially a second- and third-round pick.
From @NFLGameDay: The #Steelers are going to get trade offers for Antonio Brown, and rival GMs predict they'll be able to at least get a 2nd rounder. The #Broncos are expected to be one of many teams interested. pic.twitter.com/Hz16So8pwV

— Ian Rapoport (@RapSheet) January 12, 2019
Rapoport believes the New York Jets, San Francisco 49ers, and Indianapolis Colts could pursue the star wide receiver. He also hears that the Denver Broncos could get involved in the process.
The Steelers are acting like they're going to get rid of the wide receiver, and there will certainly be widespread interest. Despite the trouble he causes, he's one of the best in the sport.
Arizona Cardinals wide receiver Larry Fitzgerald has yet to decide on his playing status for 2019.
Fitzgerald told ESPN's Adam Schefter that he intended to take some time to think over his future after a season in which his team finished with the No. 1 pick in the NFL.
Don't expect there to be any timeline for the 35-year-old's decision. Fitzgerald considered his future last season, but did not decide to return until February.
The iconic receiver's ultimate decision comes with the backdrop of some chaos in the Arizona organization. If he returns, Fitzgerald would be playing for his third coach in as many season, and he seemed to back the old one. In addition, the Cardinals are unlikely to be good next season, though the likely pass-heavy attack that Kliff Kingsbury is expected to bring in could make the wide receiver happy.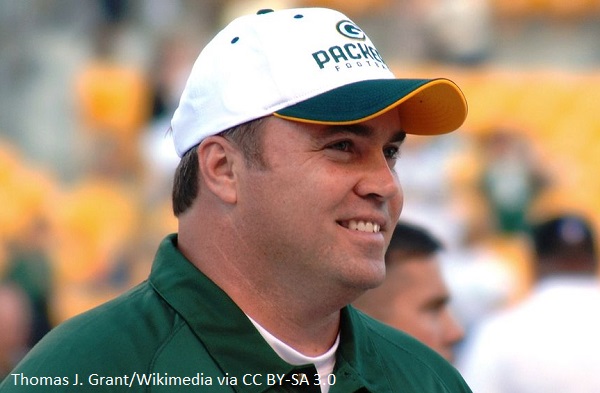 The New York Jets were interested in Mike McCarthy as head coach, but it sounds like the hiring process was fraught with difficulty.
According to Jason La Canfora of CBS Sports, the Jets were the only team to seriously pursue the former Green Bay Packers coach after he rejected interest from Arizona, but discussions ultimately fell apart over staffing issues and differing philosophies. While McCarthy had a good interview, he reportedly had concerns about the front office and organizational structure.
Things fell apart when McCarthy was asked to submit a list of potential staff members, and it became clear that the two sides simply did not see themselves going in the same direction.
The Jets ultimately hired former Dolphins coach Adam Gase, while McCarthy looks set to sit out the 2019 season. In the end, he was very picky about his potential destinations, and if it wasn't a perfect fit, he didn't jump at it.
The Green Bay Packers' coaching staff could have been a family affair this season, but the San Francisco 49ers are getting in the way.
New Packers coach Matt LaFleur reportedly sought to add his younger brother Mike to his staff. Mike LaFleur currently works as the pass game coordinator for the San Francisco 49ers and would thus need approval from his team to interview — and they're not giving it.
Packers and HC Matt LaFleur were denied permission to interview/hire younger brother, Mike LaFleur, the 49ers' WR/passing-game specialist. 49ers told Packers, Browns and Vikings no on talking to Mike LaFleur. Also rejected interview requests on Mike McDaniel and Rich Scangarello.

— Adam Schefter (@AdamSchefter) January 12, 2019
If nothing else, the Niners are consistent, though it might annoy the LaFleur brothers a bit. The elder one will have to look elsewhere to sort out his offensive staff.
The NFL's conference championship games will be decided this weekend, as eight teams will square off for four spots in what promises to be an intriguing divisional round. The NFL's best become involved, as the four teams that got to enjoy a week off jump into the fray hoping to avoid upsets.
What factors should we be watching as these teams square off? Here are ten key questions for the NFL divisional playoffs.
1. Do the Chiefs have the defense to contain Andrew Luck and the Colts?
The Indianapolis offense isn't a juggernaut like the Kansas City one is, but Andrew Luck and company showed against the Houston Texans a week ago that they're no joke. What's more, the Chiefs' defense has shown itself to be vulnerable time and time again. Kansas City can win a shootout, but they'll have to at least contain the Indianapolis offense long enough for their own players to get a leg up.
Colorado Rockies third baseman Nolan Arenado is well on his way to a record salary via the arbitration process.
Arenado and the Rockies swapped figures on Friday, with the third baseman asking for $30 million and the team offering $24 million, according to Ken Rosenthal of The Athletic. Even if the Rockies were to win proceedings, the $24 million salary would still set a new record for an arbitration-eligible player, surpassing the $23 million figure the Blue Jays and Josh Donaldson settled on prior to 2018.
Nolan Arenado asked for a record $30 million in arbitration. The #Rockies offered $24 million.

— Ken Rosenthal (@Ken_Rosenthal) January 11, 2019
Even at the #Rockies' number, Arenado would set a record for the highest salary ever in arbitration. https://t.co/NlTJlzUNVy

— Ken Rosenthal (@Ken_Rosenthal) January 11, 2019
According to Jeff Passan of ESPN, it is likely that the two sides will settle before going to a hearing, placing the record figure somewhere between the two.
There is a strong sense that Nolan Arenado will not go to an arbitration trial with the Colorado Rockies, league sources tell ESPN. Arenado requested $30 million. The Rockies offered $24 million. Wherever he does settle — and it's very likely — it'll be a single-season record.

— Jeff Passan (@JeffPassan) January 11, 2019
Arenado hit .297 with 38 home runs last season, a year in which he made $17.75 million. It's plausible that he could also break the record for the biggest raise to come from arbitration, also set earlier this offseason, though that one might be a bit tougher.
The Cincinnati Bengals won't be bringing Hue Jackson back as a member of their staff.
According to Elise James of WLWT, the Jackson is "out" in Cincinnati in any role.
My source says Hue Jackson is out.

— Elise Jesse (@Elise_JesseWLWT) January 11, 2019
Jackson's tenure with the Bengals will last a matter of months. The team appears to have settled on a head coach who is quite offensive-minded and likely has his own ideas of how an offense should be run. Jackson likely doesn't fit that vision.
It's unclear where the former Cleveland Browns coach will land after this. There are still offensive coordinator positions open around the league, but at the moment, he hasn't been linked to any of them. He has enough experience to land somewhere, but it's safe to say he's not as well-regarded as he once was.
pixel2