Forget Kobe and Jordan: Paul Pierce Says He's the Best Player in the World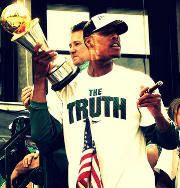 I've been pretty high on Paul Pierce in the past, saying that he deserved some MVP consideration based on how valuable he was to the horrendous Celtics squad from two years ago. Even though I think highly of Pierce — especially after the way he performed in the playoffs this year — calling him the best player in the world is a stretch. I figure guys like Kobe Bryant, LeBron James, and maybe even Chris Paul can lay claim to that argument. Anyhow, when asked who the best player in the world was, Pierce's answer was himself, and added he even added this:
"There's a line that separates having confidence and being conceited. I don't cross that line, but I have a lot of confidence in myself."
…
"I have an opinion, I have a right to have one and that's the way I feel. I felt I've played against the best over the years and felt right now that I'm the best player in the world."
You know what? Damn the man, why should he let anyone tell him that he's not he best player in the world? As long as he thinks it and is a confident player who backs it up, what's wrong with maintaining that attitude? Sure, it's a problem when Ricky Davis thinks that way because then he's jacking up 20 shots a game, but when Paul Pierce is in the NBA Finals, maybe that attitude helps give him a competitive edge on the court. I appreciate that attitude. It might be incorrect, but he sure does have the last laugh, not to mention a Finals MVP Trophy to go with it.