Joakim Noah, a Pot Smoker? Nawwww
I mean, come on, who would really believe that such a sweet, innocent child like Mr. Noah actually tokes herb? Back when he was negligent on his donut duties, I just chalked it up to rookie defiance. How silly of me. It just wasn't my natural reaction to think a man who dresses like this to the NBA draft: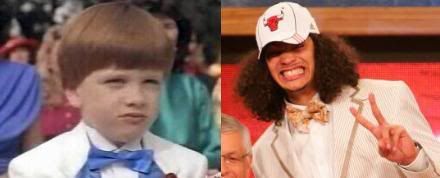 And dances like this:
Would actually be in a sane frame of mind. What was I thinking. Joakim, I am so shocked. Of all the kids in the league, I just never thought it would be you. Now that bad boy from Duke, J.J. Redick, he has pot head written all over him. But you? I never suspected it. I'm ashamed, Joakim, ashamed.