Marc Iavaroni Fired by Grizzlies, Latest to Get the Axe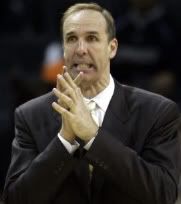 With the NBA trending towards the "what have you done for me lately" attitude towards coaches, it was only a matter of time before the Memphis Grizzlies fired Marc Iavaroni. And according to TNT's David Aldridge, who got the T-Mac/Yao story wrong if you believe Yao, the Grizzlies have done just that. Memphis is on a seven-game losing streak and 11-30 on the year. Combined with last season, the team was 33-90 under Iavaroni's leadership, so based on sheer numbers it's not a surprise. Still, much like the Reggie Theus firing by Sacramento, what did you expect from the guy?
The Grizzlies have been an awful team, largely because they traded away their franchise player last year to the Lakers. Pau Gasol was good enough to get them to the playoffs, and that was only as a late seed, and probably before the West got as tough as it was last year. The team traded away a veteran shooter like Mike Miller, albeit for O.J. Mayo, leaving them nothing but unproven youngsters. Rudy Gay and Mayo appear to be pretty good, but how can you look at this as anything other than a rebuilding team? What do you want from Iavaroni when most of his players aren't very good?