Going to Knicks Right Move for D'Antoni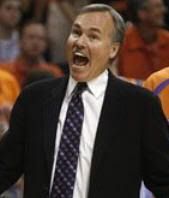 At first I agreed with with most of the comments I was hearing from pundits — going to Chicago would be the best move for Mike D'Antoni. But now that I've thought about things since he's agreed to become the next coach of the Knicks, I'm convinced that going to New York is the right move for Mike D'Antoni. Assuming he wasn't getting along with Suns' management and that it was time for him to move on, going to NYC makes sense. As it's being reported, D'Antoni's going to be making $24 million over four years from the Knicks. That's nothing to sneeze it. Long as the Knicks are willing to dish it, why not take it, right? So from a financial perspective, he's capitalizing on his worth.
Next up, D'Antoni doesn't have very high expectations. He's taking over a team at its absolute low point — it can't possibly get any worse or embarrassing for the Knicks. They've had a horrible record and they've been just as big of a joke off the court as they have on it. All D'Antoni really has to do is revive the program — get them to .500 and into the playoffs. Shouldn't be too hard to do if he has four years in the Eastern Conference. And from all accounts, they just want him to excite the fans — recharge interest in Knicks basketball. The way I see it, it's a win-win for D'Antoni.
Now if he were to go to Chicago, there would be higher expectations; the Bulls were a playoff team winning 50 games not long ago. He'd be charged with the responsibility of getting them back to that point, and be getting paid handsomely to do so. There would be a lot more pressure in Chicago, even if the team is better and easier to work with. And here's the best part of taking the Knicks job: when in doubt, blame it on Isiah. That's right, D'Antoni is following such a messy act, that when in doubt, everyone will blame it on Isiah. Honestly, how much better can it get for D'Antoni?