T-Wolves Set on O.J. Mayo?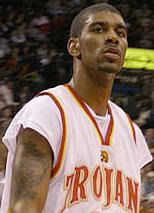 I love the way drafts work. Anything an executive says is either the truth, or a fabrication in order to throw everyone off the scent. Such a fun mind game. But after the Timberwolves worked out O.J. Mayo, it was hard to take GM Jim Stack's comments as anything other than telling. Simply put, seems like he's drinking the O.J. Mayo koolaid.
"He basically told us that he didn't do anything wrong, which I tended to buy into what he was saying," Stack said. "He didn't have a car, but did he get driven around quite a bit by this (Rodney) Guillory guy? Absolutely. But after some things came out, he said later on that there may be some layers behind the scenes that were going on that he wasn't aware of. And he definitely distanced himself from those situations after he found out more information. At the end of the day, I think it really taught him some lessons about being careful with his inner circle and understanding where people are coming from."
…
"I think he's a kid that's been on his own since he was a lot younger probably than any of us. He basically was on his own since seventh, eighth grade. He lived with his grandfather a little bit, but basically he's been looking after himself for quite a while. So there's a maturity level there that I think maybe some of these other kids don't necessarily have."
With the third pick in the 2008 NBA Draft, the Minnesota Timberwolves select O.J. Mayo, USC. Either that or I'm taking the bait. With Beasley and Rose set to go 1-2, looks like the third pick is a lock now, too. I'm pretty pumped about this draft, that's for sure. I really think this one will be able to compete with the '03 draft in a couple years. Maybe not as many superstars as LeBron, Melo, Bosh, and Wade in the top five, but lots of good players, no doubt.