The Los Angeles Dodgers will be without Julio Urias for roughly two more weeks owing to a domestic violence suspension.
Major League Baseball announced Saturday that Urias had accepted a 20-game ban for a domestic violence incident. The league gave him credit for five games already served when he was placed on administrative leave immediately after the arrest, meaning he has 15 more to go.
MLB announces #Dodgers Julio Urías has accepted 20-game suspension under MLB Joint Domestic Violence, Sexual Assault and Child Abuse Policy. 5 games were already served, so 15 more.

— Joel Sherman (@Joelsherman1) August 17, 2019
The suspension stems from an arrest in May in which Urias was accused of shoving a woman. While the charges were ultimately dropped, that did not preclude MLB from pursuing its own punishment, which they have. He's on schedule to return to action in early September.
Chicago Cubs shortstop Addison Russell was recalled from AAA Iowa on Friday and he's hoping to show that his time in the minors was well-spent.
Russell has hit a promising .281 at AAA this year, but the progress has not translated to the majors. The shortstop thinks his time away from the limelight enabled him to work on his hitting and restore, in his words, "the original me."
Russell: "I was there (at Iowa) on a mission." Admitted he was devastated after getting demoted on July 24

— Mark Gonzales (@MDGonzales) August 16, 2019
Russell: "I felt I got back to the original me" pic.twitter.com/Pd7rpdO1us

— Mark Gonzales (@MDGonzales) August 16, 2019
Off-field issues have severely damaged Russell's standing, and he was poor on the field to the point that the usually optimistic Joe Maddon singled him out for criticism after one of his worst games. The Cubs need help down the stretch run, and they're hoping Russell can provide some.
The Boston Red Sox are getting some worrisome news on the Chris Sale front.
Jason Mastrodonato of the Boston Herald reported on Saturday that the seven-time All-Star pitcher has been placed on the 10-day injured list with inflammation in his left elbow.
The 30-year-old Sale has had a down 2019, going 6-11 with a 4.40 ERA and missing out on the American League All-Star team for the first time since 2011.
Issues with the throwing elbow are often cause for concern, especially when you consider the shoulder problems Sale has also dealt with in recent years. With the Red Sox quickly fading in the AL playoff race, it seems very possible that Sale may not pitch against this season.
The New York Yankees were on the wrong end of a thorough blowout on Thursday night, and manager Aaron Boone would be open to making some changes to prevent teams from having to play out the string.
Boone said Friday he would at least be willing to consider a mercy rule for blowouts, feeling that it would help prevent injuries and position players pitching, as well as mitigate bad blood from players violating the league's so-called unwritten rules in lopsided games.
Aaron Boone says he wouldn't be opposed to some sort of mercy rule in the regular season for blowouts like last night. Said he thinks it would help cut down on some of the unwritten rule stuff about whether or not to swing on 3-0 in a lopsided game, etc.

— Lindsey Adler (@lindseyadler) August 16, 2019
Boone said he knows players sometimes find some levity in a guy like Mike Ford pitching but from his side he worries abour managing smartly but without risk of injury. For what it's worth he said he'd be fine with a mercy rule when his team is up, too.

— Lindsey Adler (@lindseyadler) August 16, 2019
No such proposal has even been floated by MLB, but it's easy to see why a team wouldn't want to play things out until the end of a 19-5 game like the Yankees did against the Cleveland Indians Thursday. It would certainly be a minor way to address pace of play, which MLB ranks as a priority.
Three New York Yankees were ejected during the sixth inning of Sunday's game against the Cleveland Indians, and one player who was somewhat involved believes the home plate umpire was looking for a reason to toss some players.
Cameron Maybin was the batter who struck out looking on a questionable call, resulting in the series of events that got manager Aaron Boone and teammates Brett Gardner and CC Sabathia ejected. After the game, Maybin had his say, accusing plate umpire Ben May of "egging it on" and staring into the dugout. Maybin also decried the lack of accountability, noting that May would not have to answer for his actions to the media like players do.
Maybin on HP ump Ben May: "He was egging it on the whole time. I asked him a question. I asked him how can he make that call, he was very sure of himself that that pitch was right there. It wasn't. After that it should have been over. He continued to stare into the dugout."

— Bryan Hoch (@BryanHoch) August 17, 2019
More Maybin on plate umpire Ben May: "You see it all the time. He won't have to answer any questions like we do. That's the sad part about it."

— Erik Boland (@eboland11) August 17, 2019
Umpire accountability has become a frequent talking point for players, who are frustrated with the double standard. Plenty of players probably feel the same way that Maybin does about events like this.
Max Scherzer sounds healthy, but the Washington Nationals will still hold him back a little bit longer as he recovers from a back issue.
Manager Dave Martinez announced Friday that Scherzer will not start this weekend and will instead throw another simulated game, with the team wanting to build up his endurance.
Scherzer will pitch another simulated game tomorrow. He's healthy but they want him to build up his endurance more. It's basically the equivalent of another spring training start.

— Mark Zuckerman (@MarkZuckerman) August 16, 2019
Martinez: "I'll be honest with you: I want him to pitch. But we have to be smart about it and make sure when we get him back, we have him for the rest of the season."

— Mark Zuckerman (@MarkZuckerman) August 16, 2019
Scherzer has pitched once since July 6, so he's definitely out of practice against big leaguers. This will be hugely frustrating to the pitcher, but Martinez is right that the Nationals simply need him to stay healthy once he's back on the mound.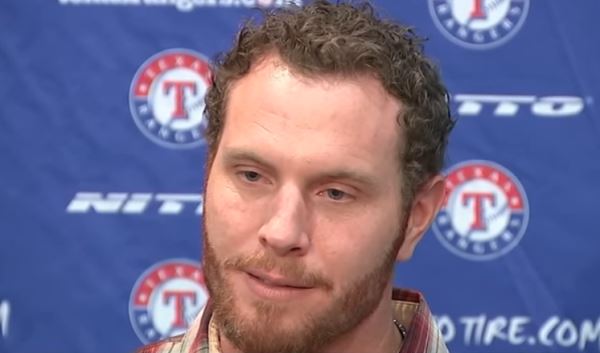 Josh Hamilton returned to Globe Life Park in Arlington, Texas on Saturday to be inducted into the Texas Rangers Hall of Fame. While there for his induction, he held a press conference and spoke with reporters. During the press conference, Hamilton admitted his regret over leaving the Rangers to sign with the Los Angeles Angels after the 2012 season.
"You could look back and think about a lot of things, if I made a different decision here or there. Texas has always felt like home. I hated it ended up I couldn't play two or three more years — had the injuries of stuff. It's a blessing that I went to the Angels — taking care of my kids and I got paid. But it's not all about that. I should have prayed more and harder before I made any kind of decision," Hamilton admitted.
Josh Hamilton on regretting leaving for the Angels pic.twitter.com/Y2l6bH0JMa

— Levi Weaver (@ThreeTwoEephus) August 18, 2019
Hamilton signed a 5-year, $125 million deal with the Angels. The big money he received was about the only positive aspect of the matter.
Hamilton was coming off a season where he slugged a career-best 43 homers for Texas and posted a .930 OPS, which was the second-highest mark of his career. In 2013, he batted a career-low .250 with the Angels. The following season he hit just .263 and played in only 89 games. Things went so poorly for Hamilton in Anaheim that the Angels traded him back to Texas after two seasons. That came after he had a self-admitted drug relapse while rehabbing from shoulder surgery. Hamilton later said the Angels knew what the risks were when they signed him.
During his time with Texas, Hamilton thrived and developed into the player the Rays envisioned he would become when they drafted him No. 1 overall in 1999. He led the league in RBIs once, made five straight All-Star teams, and won American League MVP in 2010. During his MVP season, Hamilton led the league in batting average (.359), slugging percentage (.633) and OPS (1.044).
Hamilton's career arc is one of the most fascinating in MLB history.
pixel2