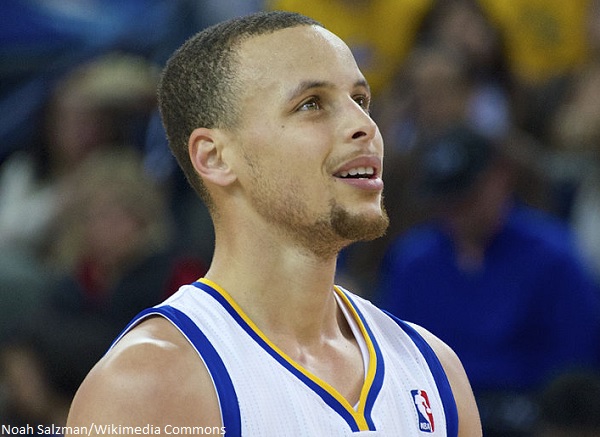 Stephen Curry rebounded from one of the worst first halves of his career Friday night to lead the Golden State Warriors back to the Western Conference Finals, and it's fair to say his peers weren't surprised in the least.
LeBron James and Dwyane Wade both paid tribute to Curry after he scored 33 points, all in the second half, in his team's 118-113 win.
NEVER underestimate the heart of a Champion‼️‼️

— LeBron James (@KingJames) May 11, 2019
Y'all better stop disrespecting @StephenCurry30 just because he's a team first guy and is willing to sacrifice in moments doesn't mean he's not still a beast.

— DWade (@DwyaneWade) May 11, 2019
Curry was grateful for the support from both players.
Stephen Curry on tweets from LeBron & Wade after hearing criticism early in series: "I've heard a lot of noise this series. I'll just leave it at that. I know what I'm capable of. I don't need any extra motivation. My confidence never wavers. Champions recognize champions."

— Ben Golliver (@BenGolliver) May 11, 2019
It wasn't just the first half that gave Curry issues on Friday. He's been shaky for large portions of the series. As James and Wade noted, however, he's a champion, and he stepped up when his team needed him most.
Dwyane Wade may have put the finishing touches on his Hall of Fame playing career this year, but the 13-time All-Star will have plenty of opportunities to remain involved with the NBA if he chooses to go that route.
More specifically, Wade is a wanted man among television networks. Andrew Marchand of the New York Post reports that both ESPN and TNT are preparing pitches for the former Miami Heat star and want him to begin serving as a studio analyst as early as this postseason. Wade has done some limited worked with ESPN/ABC during the playoffs in the past, but it is not yet clear if he wants to pursue a full-time role now that he is retired.
Marchand adds that ESPN is considering the possibility of overhauling its "NBA Countdown" show or just making some minor tweaks, and Wade could be a fit there. The TNT "Inside the NBA" crew seems more set with Charles Barkley, Shaquille O'Neal and Kenny Williams sitting alongside host Ernie Johnson, but Barkley is 56 and has said in the past that he wants to call it quits when he's 60. Now could be a good time to start incorporating Wade if he's interested.
It should be noted that Paul Piece has been a member of ESPN's "NBA Countdown" crew this season, and he recently had a very public debate with Wade over who had a better career. Assuming there is no bad blood between the two, that rivalry could make for a fun dynamic on the show.
Miami Heat fans got to spend Tuesday night celebrating Dwyane Wade, and at the same time they showed their loyalty with a funny chant.
Late in Wade's final home game with the Heat, the fans at American Airlines Arena started a "Paul Pierce sucks" chant.
Heat fans really started a "Paul Pierce sucks" chant in Dwyane Wade's last home game pic.twitter.com/gXT7rBda4v

— Bleacher Report (@BleacherReport) April 10, 2019
The chant was in response to Pierce's recent claim that he had a better career than Wade. Many found that claim to be laughable, and Heat fans were particularly angered by it.
That's not all. They also booed when a video of Derek Jeter sending a message to Wade was shown, according to Ethan J. Skolnick.
The only person to get some boos when shown on the screen here tonight sending a message to Dwyane Wade?

Derek Jeter.

— Ethan J. Skolnick (@EthanJSkolnick) April 10, 2019
Fans in Miami are upset with Jeter over the terrible way the Marlins have been run since he took over.
Dwyane Wade is playing his final home game with the Miami Heat on Tuesday night before retiring from the NBA after the season, and the price to watch him in person is surging.
According to ticket service TickPick, the average ticket price to watch Wade's farewell home game is $716. Their most expensive ticket remaining is going for $1,451.
Wade is the best and most beloved player in Miami Heat history. He was drafted by the franchise in 2003, made the All-Star team in his second year (his first of 13 selections), won three championships and a scoring title for the team. He spent two seasons with other teams (the Chicago Bulls and Cleveland Cavaliers) before returning to the Heat last season.
This entire season has been a farewell tour for Wade, who has received tributes and love at many of his road games. He's set to receive a pregame ceremony on Tuesday, though the game will not be televised nationally on TNT for this reason.
Paul Pierce was heavily criticized over the weekend for making the argument that he had a better NBA career than Dwyane Wade, and the Boston Celtics legend has no intention of backing down from that claim.
Pierce said during ESPN's NBA coverage on Friday that he would "be sitting on five or six championships, easy" if he played with Hall of Famers like Shaquille O'Neal and LeBron James during the prime of his career. Wade fired back on Twitter and made it clear that he disagrees, but Pierce kept up the argument on Saturday by sharing arguments in favor of his career over Wade's.
That part https://t.co/gTFAvgsoDQ

— Paul Pierce (@paulpierce34) April 7, 2019
That part https://t.co/91mk9zAlUS

— Paul Pierce (@paulpierce34) April 7, 2019
No one is debating that Pierce had an incredible career and is a Hall of Famer, but trying to convince people of why his career was better than a fellow future Hall of Famer's is a bad look. Even if he thinks he did more during his time in the NBA than Wade has, he should leave that for other people to debate.
We've already seen in the past how much Pierce loves the spotlight, and this seems to be another example of that.
Did Paul Pierce have a better NBA career than Dwyane Wade? The former Boston Celtic certainly thinks so, but the Wade family doesn't care for that argument.
Wade's 17-year-old son Zaire posted a pretty clear response to Pierce, noting that in 19 years, Pierce only managed one NBA title.
Zaire not tolerating any disrespect to his dad's legacy pic.twitter.com/prMMDRcxgd

— Bleacher Report (@BleacherReport) April 6, 2019
Wade himself had already responded to Pierce in a slightly more muted fashion, and it's no surprise that family sticks together. For many people, it does come down to championship rings, and Wade has three of them while Pierce can only claim one.
Pierce is a Hall-of-Famer. Wade will be one when his time comes. But Pierce definitely has an ego, too, and he started the discussion. Everyone else in Wade's corner seems intent on finishing it.
Dwyane Wade on Friday night responded to a bold claim from Paul Pierce.
While speaking in his role as an analyst for ESPN's NBA coverage, Pierce said Friday that he had a better career than Wade.
Paul Pierce says he had a better career than Dwyane Wade pic.twitter.com/8Q6AbYNxe1

— NBA Central (@TheNBACentral) April 6, 2019
Pierce's claim was met with much derision online.
NBA player Jared Dudley laughed and suggested Pierce was on drugs.
Cocaine is helleva drug! Both has great careers but Dwade is 3rd best SG of all-time https://t.co/PuvyiRfbGM

— Jared Dudley (@JaredDudley619) April 6, 2019
Wade says Dudley's response was in line with his thinking.
You said it better than i could. https://t.co/5LhKnHW9xX

— DWade (@DwyaneWade) April 6, 2019
Pierce is a Hall of Fame player who probably deserves more respect than he receives, but he had a weak argument when Jalen Rose gave these comparisons:
Paul Pierce's face as Jalen lists all the honors Dwyane Wade had that Pierce couldn't match, with Beadle providing commentary pic.twitter.com/A4eAqEBLRE

— Bay Area Sports Guy (@BASportsGuy) April 6, 2019
However, you can always pick your stats to make the argument you want. There are other stats that make Pierce's argument much better.
Pts: Pierce 26,397 (15 NBA history), Wade 23,065 (30)
Reb: Pierce 7,527 (81) Wade 4,913 (?)
Ast: Pierce 4,708 (73) Wade 5,680 (42)
TS%: Pierce .5679 (95) Wade .5542 (176)
ORtg: Pierce 108.78 (235) Wade 108.94 (235)
DRtg: Pierce 102.72 (109) Wade 104.45 (191)

— John Karalis 🇬🇷 (@RedsArmy_John) April 6, 2019
In the end, Pierce is just showing again that he's jealous he didn't get the farewell tour Wade received. We've learned how much he loves the spotlight.
pixel2