Jayson Tatum has been complimented for years now as having arguably the best hairline in the NBA, but the Boston Celtics star is rocking a new look in advance of the resumption of the season. Let's just say the feedback has not been overwhelmingly positive.
Tatum let his hair grow out after the NBA season was postponed, and the 22-year-old is now rocking some serious curls. Dwyane Wade was among the many who commented on Tatum's hairstyle.
Oh he . No more du rags. He will now be using the hotel blow dryer. https://t.co/kTFYDvpmRb

— DWade (@DwyaneWade) June 27, 2020
It didn't stop there, but at least Tatum has a sense of humor about it. The former Duke star tweeted on Saturday about how people are trolling him. You can see some of the most popular responses below:
Barber: watchu want

You: Treyson hardum pic.twitter.com/9r026mthnK

— celtics (@celtics_4__life) June 27, 2020
barber: what can I do for you?

Tatum: make me look like my toddler pic.twitter.com/AXs8Lo9TNV

— David Dumont (@djdumont_20) June 28, 2020
Tatum's hairline has been a topic of discussion on multiple occasions — usually when his peers are talking about how much they envy it. It doesn't seem like his new look is going to draw the same praise. At least it's nowhere near as bad as Shaq's hairline was after he lost a bet to D-Wade.
The brouhaha between Jimmy Butler and TJ Warren seems like it happened years ago, but fortunately we could be getting a second helping in Orlando.
As part of the NBA's seeding game schedule release for the planned restart of play in late July, it was revealed that the Miami Heat would play the Indiana Pacers twice in one week, bringing Butler and Warren back together. Retired Heat star Dwyane Wade took to Twitter Saturday to express his excitement.
— DWade (@DwyaneWade) June 27, 2020
In case you forgot, Butler and Warren got into an altercation when they last met in January, resulting in Warren being ejected. After the game, Butler called Warren "soft" and "trash," saying that Warren could not guard him.
Wade, Butler's close friend, former Chicago Bulls teammate, and successor as the star player of the Heat, will obviously be rooting for Butler in Round 2. The rest of us will be able to watch the beef unfold for ourselves as well when Miami and Indiana have their scheduled meetings on Aug. 10 and 14.
Dwyane Wade was involved in one of the more infamous controversies in Slam Dunk Contest history during this year's competition, and now he might be trying to hash things out with the man that he allegedly wronged.
Speaking Sunday during an Instagram Live broadcast on the official NBA channel, the retired 13-time All-Star said that he was trying to get Orlando Magic star Aaron Gordon on the platform to discuss the Dunk Contest.
.@DwyaneWade says he's trying to get Aaron Gordon on IG Live this week to talk about the dunk contest

(via @NBA) pic.twitter.com/OECsEu3Lsa

— Bleacher Report (@BleacherReport) April 5, 2020
In a saga that has since launched a thousand memes, Gordon narrowly lost the competition to Wade's former Miami Heat teammate Derrick Jones Jr despite putting on one of the most impressive performances of all-time. Wade was a judge and notoriously gave Gordon a "9" on his final dunk but a "10" to that of Jones Jr. Other judges admitted that the plan was to end it in a tie but agreed that someone messed up with the scoring.
Gordon said after the contest that he felt like he should have "two trophies," referencing his other dubious loss to Zach LaVine in the 2016 competition. Now this may be his opportunity to air out his grievances with Wade.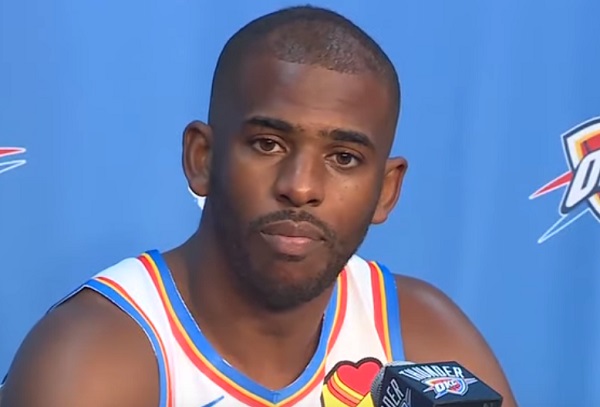 Chris Paul and Dwyane Wade got together for a chat on Instagram Friday, and a funny story emerged during their talk.
The two players, who are part of the NBA's exclusive "Banana Boat" crew, talked about what got in the way of CP3 joining the Miami Heat. Both players agreed that one of the impediments had to do with their jersey numbers.
Chris Paul wears number three and is known as "CP3." Wade doesn't quite have the same attachment to his number where it's part of his nickname/brand, but that has been his number as well, save for his season in Cleveland when he wore No. 9.
Paul recalled that when they were talking about teaming up, the jersey number issue was a hangup. He was expecting Wade to offer the number, but that never came.
"Why would I do that?" Wade answered, rhetorically. "That was my team. I couldn't give up number three. It was going to get retired there one day. I knew I couldn't do that. … CP didn't come to Miami because we couldn't come to agreement on the number."
It's unclear what year this might have been, but things worked out well enough for Wade when it came to playing with his friends. He was joined by LeBron James and Chris Bosh in 2010, and they combined to win two NBA championships on the Heat.
Don't think those numbers are a big deal? Some players pay big bucks to teammates to get their desired number.
"CP didn't come to Miami because we couldn't come to an agreement on No. 3."@DwyaneWade on why @CP3 didn't come to Miami pic.twitter.com/XAmdgB8m5Z

— Bleacher Report (@BleacherReport) April 4, 2020
Sierra Canyon advanced to the finals of the California state boys basketball championship on Tuesday night with a dramatic 63-61 comeback win over Etiwanda, but Dwyane Wade wasn't exactly stoked about it. Wade's son Zaire plays for Sierra Canyon, and apparently the 18-year-old has not been playing as much as D-Wade would like.
Ziaire Williams, one of the top college recruits in the nation, hit a buzzer-beater to complete the comeback for Sierra Canyon after the Blazers trailed by 11 with fewer than three minutes remaining. The highlight of Williams' shot was shown during the NBA on TNT postgame show, and Wade was asked if he will be at the state semifinal. Things took a very uncomfortable turn.
Dwyane Wade says on @NBAonTNT that he will not attend Sierra Canyon's CIF State title game. Zaire Wade did not play in the team's regional final win over Etiwanda Tuesday night. Clearly Wade has an issue with coach Andre Chevalier and makes it clear here.pic.twitter.com/F8jRsZeBGG

— Tarek Fattal (@Tarek_Fattal) March 11, 2020
"I will not be there," Wade said. "When my son ain't playing … and I don't want to do nothing to the coach. I won't be there. I won't be there but I'll be rooting for the kids."
Sierra Canyon, of course, is the same team that LeBron James' son Bronny plays for. Zaire Wade is a senior, and head coach Andre Chevalier has obviously not been giving him as much playing time as Wade would like to see. Dwyane Wade could be frustrated with that because his son transferred to Sierra Canyon this year and is trying to impress college programs. Zaire is a three-star recruit who has drawn interest from DePaul, TCU, Rhode Island, Toledo and Miami.
The season may not have gone as planned for the Wade family after some of the exciting clips we saw when Bronny and Zaire first teamed up, but calling Chevalier out on national TV seemed a bit excessive. Even Candace Parker seemed shocked and said "I think you did just do something" when Wade said he's afraid he'd do something to the coach if he attended a Sierra Canyon game. Even without knowing the whole story, it's hard to believe that was the best approach Wade could have taken.
Those card games among teammates can become pretty costly.
Dwyane Wade gave an interview to Men's Health and talked about financial matters for a "Men's Wealth" clip. He shared his best purchases, worst purchases, and best money advice he has received. Wade says that the best advice he got was to get rid of all the cars he had purchased because those were just costing him money and depreciating in value. He says he went from 16 different cars to just one.
Asked about the worst money he's blown, Wade talked about all the money he lost in card games with teammates.
"I've lost a lot of money gambling … when you play sports, it's like a rite of passage that you have to play cards on the plane," Wade said. "It's like a team thing, it's how we connect, how we bond. And I've lost a lot of money on the plane just trying to play with my teammates. There's been times that I wanted out because I was losing so much money. Like my finance adviser called me and said 'hey, this is something we need to talk about. Do you have a problem?' So losing money by gambling, to me, is the worst way to lose money. I'm not into it. I'm so glad it's over."
It's finally "over" for Wade because he retired as a player, but it sounds like card games are prevalent among NBA players and probably still posing debt issues for players. One player even faced a death threat over debt he racked up playing a dice game with some players. At least Wade has three championships to show for all the money he lost.
Wade also shared in the interview that providing homes for his parents and paying for education for his kids is the best money he's spent.
Here's the interview:
Shaq showed up to work at TNT on Tuesday night sporting a new hairstyle.
Rather than his usual shaved head look, The Big Fella actually had a hairline.
Shaq looking like he went to the Whitlock Hair Club pic.twitter.com/WXXxOiewTO

— Tyler Conway (@jtylerconway) March 4, 2020
What's going on with Shaq's hair ? #nbatnt #NBATwitter pic.twitter.com/6IcKjyAfml

— PABLO (@pjbeenready) March 4, 2020
What's the deal with it? Shaq said he lost a bet with Dwyane Wade about who would win on Monday night between the Miami Heat and Milwaukee Bucks. Wade's Heat won, so as punishment, Wade told Shaq to grow out his hairline.
.@SHAQ's punishment for losing his friendly wager with D-Wade is priceless pic.twitter.com/JII7yrrH99

— NBA on TNT (@NBAonTNT) March 4, 2020
"I just lined it up for y'all, so you all could see where my hairline starts. And it looks good and I'm proud to do it and I'm going to keep it all week."
Shaq got some jokes because his hairline starts so far back on his head. Shaq said he didn't mind and told the people to send him their best jokes. Here was one from Quentin Richardson:
Aw man!! @shaq is wild'n with his hair lining tonight!! Wow!! He got that IMAX movie screen up top!! #insidethenba

— Quentin Richardson (@QRich) March 4, 2020
pixel2