It almost feels like there's even more at stake in this year's NBA playoffs than usual. Due to the pause in NBA action, teams that will be involved in the playoffs have had extra time to think ahead and plan and consider the repercussions of what a bad playoff run could mean. Multiple superteams will feel that they don't have an indefinite amount of time to win a championship. Players are inching closer to free agency. Some teams, as built, may not be able to continue to exist in their current form.
Which players really need to win a title sooner rather than later? These five could face serious consequences if things don't go their way in the postseason.
The NBA is still planning to crown a champion this season, and many feel the title should come with an asterisk since the circumstances surrounding it will be so unusual. As far as Giannis Antetokounmpo is concerned, that asterisk should indicate that the 2019-20 NBA title was the most challenging ever to capture.
With players having to quarantine in Orlando and follow numerous guidelines in order to get back to playing, Giannis told reporters on Wednesday that he believes this year's championship will be the "toughest championship you can ever win."
Giannis on the championship asterisk idea: "This will be the toughest championship you can ever win. The circumstances are really tough right now."

— Scott Davis (@WScottDavis) July 1, 2020
As for how he is preparing for life inside the "bubble" in Walt Disney World, Antetokounmpo admitted the packing part has been easy for him.
Giannis on what he'll pack for the Disney bubble: "I'm not going to lie, I never pack my bag. My girlfriend does it for me." He says he'll just bring his iPad and phone.

— Scott Davis (@WScottDavis) July 1, 2020
Professional athletes are creatures of habit and routine. All of that is going to be thrown out the window in Orlando, so Giannis has a point. You also have to factor in that some teams could be missing (and in some cases are already) key players if there are positive coronavirus tests. Winning an NBA title this year would be different, but Antetokounmpo could be right that it will be more difficult.
One former player said a long time ago that he thinks the 2019-20 playoffs could be the best in league history. If all of the league's top players manage to stay healthy, that could be the case.
Giannis Antetokounmpo's younger brother is going pro overseas.
Alex Antentokounmpo announced Monday that he has agreed to a contract with Spanish team UCAM Murcia. According to Nikos Varlas of Eurohoop.net, the three-year deal has an NBA out clause for every summer.
New Chapter @UCAMMurcia pic.twitter.com/vjHAetdLRB

— Alexandros Antetokounmpo (@alex_ante34) June 22, 2020
Giannis Antetokounmpo was quick to congratulate his younger brother on social media.
Big move @alex_ante34 I'm so happy and proud of you. Now let's get it @UCAMMurcia pic.twitter.com/yZzMucCbBu

— Giannis Antetokounmpo (@Giannis_An34) June 22, 2020
Alex Antetokounmpo had options to play stateside. The 6-foot-7, 190-pound forward was considered a three-star recruit by Rivals and had interest from Wisconsin, but he announced in May that he would pursue a career in Europe with the aim of eventually going to the NBA.
Giannis has said he'd be eager to team up with his brothers in the NBA at some point. Alex's move brings that possibility a step closer to happening down the road.
Photo via Alex Antetokounmpo/Instagram
The NBA playoffs are often full of remarkable performances, with one player taking over a game and dragging his team over the line. After all, we've seen it plenty of times over the year, from Michael Jordan to Kobe Bryant to LeBron James and many more.
Who are those players now? Here are five who could, if they take over a game or series, be good enough to lead their team to the NBA Finals — and even win a championship when the season resumes in Orlando this summer.
Giannis Antetokounmpo is just over a year away from becoming a free agent. While the league's current situation has everything in flux, one team that would love to have Giannis may have already hurt their chances.
The Knicks drafted Giannis' brother Thanasis in the second round in 2013, but did not give him much of a chance. Thanasis played in just two games for the Knicks and has since moved on to play with his brother in Milwaukee.
Marc Berman of the New York Post summarized some of the comments Giannis and his inner circle have made on how the Knicks treated Thanasis. In 2015, the Knicks failed to call Thanasis up for a game against the Bucks in London, prompting Giannis to say he was "a little disappointed." In addition, Giorgos Panou, one of Giannis' agents, remarked last season that the Knicks were the only team not to send a scout to see Giannis in Greece. The Knicks have denied that claim.
Giannis also had some issues with a former Knicks forward, but he's not there anymore.
For this to matter, you'd have to think the Knicks ever had a shot at Giannis to begin with. The team isn't close to contention and looks poorly-run to most in the NBA, which could scare him off either way. He's also said he'd like to play with his brothers. That's already unlikely, but if Giannis really wants to make it happen, it probably won't be happening in New York given the experience Thanasis had there.
The selections for All-NBA forwards and centers present an interesting dilemma, as they strictly adhere to a two forward, one center format. In today's position-less pace-and-space era of the NBA, it seems antiquated to require one center per All-NBA team. With the game speeding up and a premium being placed on spacing, there is a significant decrease in demand for traditional centers. Teams like the Houston Rockets don't even believe in playing a center.
The NBA recognized this shift in basketball ideology by removing positions from the frontcourt of the All-Star ballot and allowing for three frontcourt players of any position to be named a starter. While this was a step in the right direction, no changes have been made to the format of the All-NBA teams, resulting in less deserving players on the All-NBA teams simply due to their position.
With that caveat in mind, here are my selections for the All-NBA forwards and centers. (You can see my 2020 All-NBA guards here)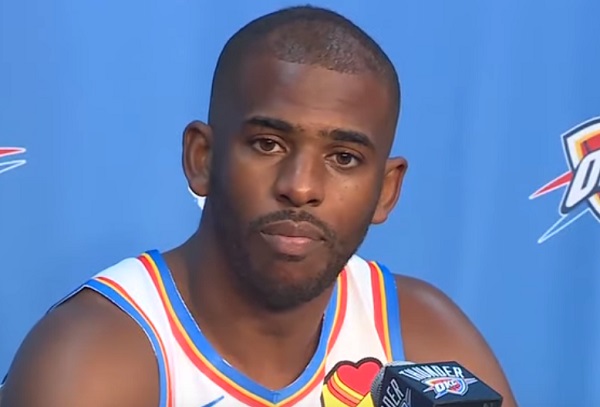 Several NBA stars want to resume the current season, according to a report.
Yahoo's Chris B. Haynes reported on Tuesday that Chris Paul, who is the president of the players' association, arranged a call with many other top players in the league to discuss the resumption of the season. Haynes says the call included LeBron James, Anthony Davis, Kevin Durant, Giannis Antetokounmpo, Kawhi Leonard, Stephen Curry, Damian Lillard and Russell Westbrook.
All players agreed that they wanted to resume the current season when it is safe. The belief is that the superstars all being on the same page will influence the direction of the league.
With the exception of Curry, Durant and Lillard, the players on that call mostly are on championship-contending teams, and therefore would have more incentive to resume the season. Haynes says many players not on playoff contenders feel the season should only resume with playoff teams to minimize the risk of virus exposure.
One issue some players are considering is that the next collective bargaining agreement would be negatively affected if the season were not resumed. That is a concern that was raised by one veteran player.
pixel2