LeBron James will be remembered as one of the greatest NBA players of all time, but the three-time champion was also a star football player in high school. His incredible strength and athletic ability have led to many a hypothetical discussion about how he would fare in the NFL, and there was a point when Dallas Cowboys owner Jerry Jones was willing to give LeBron a chance to showcase his skills on the gridiron.
During the latest episode of UNINTERRUPTED's "WRTS: After Party," LeBron admitted he has dreamed about playing in the NFL. He said he actually started training to play football during the NBA lockout in 2011. LeBron's business partner Maverick Carter was then asked if he ever got the call from LeBron about potentially playing in the NFL, and Carter said he knows James received a formal contract offer from Jerry Jones. LeBron framed the paperwork and hung it in his office.
"We started to train to be a football player."

During the 2011 @NBA lockout, @KingJames thought about making those @NFL dreams come true

Full story on #WRTS After Party with @pr_RWTW and @mavcarter
: https://t.co/3JLpFUpAG8
: https://t.co/nEjQbbcMMG pic.twitter.com/XPWXjF93Ck

— UNINTERRUPTED (@uninterrupted) May 19, 2020
There was a lot of talk about LeBron giving football a shot in 2011, so we're not surprised Jones made him a contract offer. Jones obviously knew there was virtually no chance James would accept the deal, so it was probably nothing more than a PR stunt. Seattle Seahawks head coach Pete Carroll did something similar when he sent LeBron a customized gift the same year.
While there's a lot more to playing in the NFL than being strong and fast, we've even heard football stars say they think LeBron would be a monster in the league. We'll never know for sure.
Adam Sandler drew rave reviews for his performance in "Uncut Gems," which used NBA playoff games as a backdrop and also starred soon-to-be Hall of Famer Kevin Garnett. Now, Sandler is set to play a lead role in another basketball-themed movie, and he'll once again be working with an NBA legend.
Jeff Sneider of Collider reported on Monday that Sandler has signed on to star in "Hustle," which is an upcoming Netflix movie that is produced by LeBron James and longtime business partner Maverick Carter. Sandler will play a basketball scout who is fired after discovering a talented player overseas. The scout brings the player to America to prove they can both make it in the NBA.
Collider has more details on the plot of the film.
Sandler is a huge basketball fan who has his own basketball court called Happy Madison Square Gardens. He also has some serious skills on the court, which should make him great for another basketball-related role.
Jason Williams played in the NBA from 1998-2011 and got to see Michael Jordan, Kobe Bryant, and LeBron James. He respects the games of all three legends and sees strengths in what all of them accomplished. But when it comes to the best overall player, the point guard formerly known as "White Chocolate" thinks that LeBron is the best.
Williams wrote a message on Instagram Thursday explaining his position, and says it comes down to James being the best all-around player.
"THE G.O.A.T!!! Ima start off by saying right off the bat that I got nothing but love and respect for everyone in this discussion! Anyone who knows me knows I always paid my respects to my OGs!! But I get asked all the time who the GOAT is to me when it comes down to MJ, Kobe, and LeBron! Ima let y'all know right now that in my humble opinion… KING JAMES IS THE !!! Before I get into let me make it clear: there was never a badder human being to step foot on a basketball court than Michael Jordan!!! His intensity and competitive fire and six rings speaks for itself!! Baddest dude to ever lace em up PERIOD!!!!! As for Kobe, the dude was for real a genius, a savant, he studied and dissected the game like a surgeon and then worked harder than everybody else!! The blood sweat and tears were SACRED to Bean, he just wanted it more than anybody else!!! But when it comes to Bron, all I gotta say is that if we're talking PURELY BASKETBALL… he's the GOAT!! Bro could lead the league in 5 statistical categories if he wanted to and MJ just couldn't have done that!! Bron got the perfect body/IQ/raw ability for the game of basketball and that's just a fact! UNSTOPPABLE!! If you're building a basketball player, you're going to build Lebron's body/mind/skillset every time over anyone else who's ever played the game!!! Everyone gonna talk about who has the most rings and I understand that the game is about winning but to me: LBJ is the best basketball player of all time!!!! Also, how about this: Lebron's shoes are WAY more comfortable to hoop in than Air Jordan's and that's just a fact!! You won't catch me hooping without my Lebron 17s and that's all I got left to say on the matter!!! What y'all think??! Who's your GOAT?! Convince me in the comments, I'll be reading!!!"
Williams began his career with Sacramento, moved to Memphis, and then spent time in Miami and Orlando. His stint with the Heat did not overlap with LeBron's, but that doesn't change his opinion.
The truth is you could make an argument in favor of any of those three great players depending on what your criteria is for determining "greatest." Williams pretty much nailed each player's strengths. And while his analysis of James is spot-on, most people equate greatness with winning, which is why they have Jordan as the best. Reasserting Jordan's place in the GOAT argument actually was probably a big reason why "The Last Dance" was made.
The selections for All-NBA forwards and centers present an interesting dilemma, as they strictly adhere to a two forward, one center format. In today's position-less pace-and-space era of the NBA, it seems antiquated to require one center per All-NBA team. With the game speeding up and a premium being placed on spacing, there is a significant decrease in demand for traditional centers. Teams like the Houston Rockets don't even believe in playing a center.
The NBA recognized this shift in basketball ideology by removing positions from the frontcourt of the All-Star ballot and allowing for three frontcourt players of any position to be named a starter. While this was a step in the right direction, no changes have been made to the format of the All-NBA teams, resulting in less deserving players on the All-NBA teams simply due to their position.
With that caveat in mind, here are my selections for the All-NBA forwards and centers. (You can see my 2020 All-NBA guards here)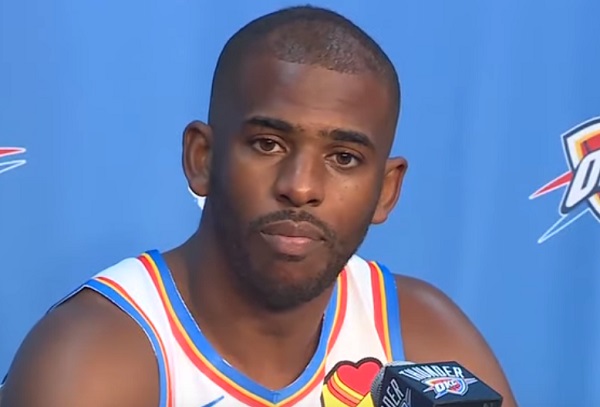 Several NBA stars want to resume the current season, according to a report.
Yahoo's Chris B. Haynes reported on Tuesday that Chris Paul, who is the president of the players' association, arranged a call with many other top players in the league to discuss the resumption of the season. Haynes says the call included LeBron James, Anthony Davis, Kevin Durant, Giannis Antetokounmpo, Kawhi Leonard, Stephen Curry, Damian Lillard and Russell Westbrook.
All players agreed that they wanted to resume the current season when it is safe. The belief is that the superstars all being on the same page will influence the direction of the league.
With the exception of Curry, Durant and Lillard, the players on that call mostly are on championship-contending teams, and therefore would have more incentive to resume the season. Haynes says many players not on playoff contenders feel the season should only resume with playoff teams to minimize the risk of virus exposure.
One issue some players are considering is that the next collective bargaining agreement would be negatively affected if the season were not resumed. That is a concern that was raised by one veteran player.
LeBron James may call himself the "King", and Michael Jordan may be the "GOAT", but the internet as always is the real winner.
Someone created a perfect mashup video that went viral on Monday. The video combines a clip of LeBron James talking about his Cleveland Cavaliers coming back from down 3-1 to beat the Golden State Warriors in 2016, which led James to call himself the greatest. Then comes the viral clip of Michael Jordan laughing at comments from Gary Payton that aired in "The Last Dance".
Here's the video:
They combined the clip of Lebron saying he's the GOAT with the Jordan laughing clip. The internet wins LMAOOOO pic.twitter.com/FwMZLSMvZh

— Shane (@ShaneSh121) May 11, 2020
We don't know how MJ would have reacted to a clip of LeBron saying that, but many can guess his reaction would be similar. Why? Jordan won six championship compared to the three LeBron has won. Also, many people would agree that James does not have Jordan's "killer mentality" as one current coach described it.
Nearly a decade later, Erik Spoelstra is finally speaking out about "Bumpgate."
In an interview this week with TNT's Ernie Johnson on the NBA's Twitter feed, the Miami Heat coach was asked about the notorious incident in 2010 where LeBron James appeared to bump him on the sideline during a timeout.
"No, I don't think so," Spoelstra said of the notion that James bumped him intentionally, per the Miami Herald. "When you're on teams like that, they naturally get micro-analyzed. We were 9-8 after that game, it exploded in the media. After that, we went on a run, winning 21 out of 22."
Spoelstra then added that, in the weeks following the incident, he and James "would walk by each other in the hallways and collide into each other and we would laugh."
The bumping controversy was certainly a big deal at the time, as Miami was off to a brutal start in the first season of their Big Three era. Questions also lingered about if Spoelstra was the right man for the job and if Heat president Pat Riley might fire him to return as head coach himself. The team righted the ship however and made the Finals for the next four years in a row, including winning back-to-back titles in 2012 and 2013.
Rumors might still abound that James once wanted Spoelstra to be fired. But as one of James' longest-lasting head coaches (and now one of the longest-tenured coaches in the entire NBA), there is definitely something to be said about Spoelstra's perseverance and ability to lead through turmoil.
pixel2