LeBron James commented on Twitter Monday about a video that showed a fan throwing an object towards his son Bronny.
Bronny was getting ready to inbound a ball during one of his recent games when a tossed object landed near the 15-year-old. The item appeared to be thrown by a young kid in the stands, so LeBron commented on the video, saying "hating has no age limit!"
Hating has no age limit! . #JamesGang is build for it and well equipped. As we proceed https://t.co/6OzvGTxDEW

— LeBron James (@KingJames) January 20, 2020
James seemed to take things seriously, though it's unclear whether the young kid who threw the object was actually targeting Bronny or just throwing something because he's young and didn't know what he was doing.
Given how ardently James defends his family, it's no surprise he also commented on this.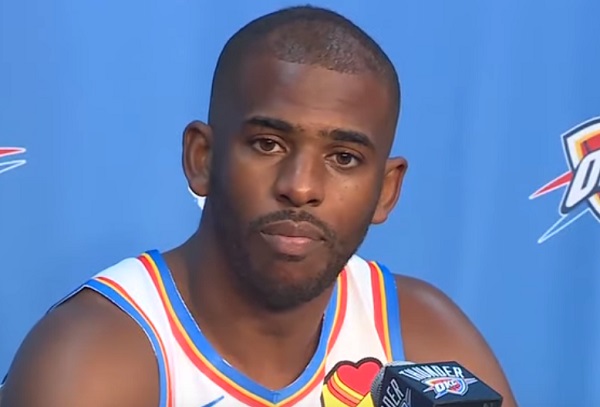 Chris Paul broke out a sick move during Thursday night's 113-92 win over the Houston Rockets, and his buddy LeBron James loved it.
During the fourth quarter of the game, CP3 decided to defeat Isaiah Hartenstein by going through him. He nutmegged Hartenstein and finished off the sweet move with a layup. The pretty display will leave you impressed:
Chris Paul nutmegs Isaiah Hartenstein, with the replays pic.twitter.com/6jtiAUHUAK

— CJ Fogler (@cjzero) January 10, 2020
LeBron, whose Los Angeles Lakers had the night off, was watching the game and loved the move.
CP stop it!!!!!

— LeBron James (@KingJames) January 10, 2020
CP3 may be 34, but he is showing he still can play at a high level and lead a successful team. He has OKC 22-16 so far, which is one of the most surprising records of the season.
The rivalry between the Los Angeles Clippers and Los Angeles Lakers may be intensifying a bit more.
ESPN's Stephen A. Smith claimed on Wednesday's edition of "First Take" that a "very reliable source" said that Leonard has said "somebody tell LeBron to stop being scared to guard me."
Of course I didn't speak to Kawhi. Who does? But I'll tell you, I DID hear he said THIS about @KingJames guarding him. And if this is true, that's even more of a reason to pray for a @Lakers vs @Clippers Conference Finals this May. pic.twitter.com/k6t1CdOA9S

— Stephen A Smith (@stephenasmith) January 8, 2020
This should be taken with a grain of salt. After all, there are NBA players who have previously had some negative things to say about Smith's reporting. If true, though, it does reflect a certain level of disrespect from Leonard to James, who is being outright accused of fearing Leonard too much to guard the Clippers forward. It's even more barbed considering Leonard has dominated the Lakers in two meetings, scoring 35 and 30 points in those games.
Regardless of whether Smith is right or not, there are definitely people close to the game who are thinking similar thoughts. James is used to being questioned, though, and he may feel personally challenged the next time the two meet.
Clippers fans, show everyone who runs Los Angeles with this great "We Run LA" shirt:
Shaquille O'Neal was a guest on "Fallon Tonight" Monday and offered a convincing opinion about how he and former Lakers teammate Kobe Bryant would stack up against current Lakers duo LeBron James and Anthony Davis.
Jimmy Fallon asked Shaq if the big man thought he and Kobe could beat LeBron and AD. Shaq answered without hesitation and stated his answer as if it were fact.
.@SHAQ says he & Kobe Bryant could beat LeBron & Anthony Davis at their prime #FallonTonight pic.twitter.com/k7CspbzHQC

— Fallon Tonight (@FallonTonight) January 7, 2020
He's absolutely right: who would guard him? LeBron or Davis couldn't stop him.
During his prime, it took a rotation of three big men who could offer 18 combined fouls to send Shaq to the free throw line as the only way to slow down the center. The only time I would go against Shaq would be if you're matching a young version of him up against Hakeem, because Olajuwon won that.
Lakers fans, show everyone who runs LA with this great T-shirt:
Frank Vogel gave LeBron James a funny birthday present — the kind kids often fantasize about. Vogel let LeBron James be coach for a day, sort of.
James turned 35 on Monday and held a birthday party. Vogel attended, and for a present, he let LeBron pick the practice time for Tuesday. James chose to have a late practice, likely because everyone was partying late.
Frank Vogel made an appearance at LeBron's birthday party last night. He said his birthday present was that he let LeBron choose practice time today. (it was a late one)

— Tania Ganguli (@taniaganguli) December 31, 2019
The Lakers are playing on Wednesday against the Phoenix Suns. LA has won two in a row, beating Portland and Dallas, to snap a four-game losing streak. James is leading the league in assists this season, and enjoying himself sleeping in on occasion.
James is also probably happy his birthday has passed since he was the one who paid for his party.
Lakers fans, show everyone who runs LA with this great T-shirt:
LeBron James is once again dealing with some drama induced by someone close to one of his own teammates.
On Thursday, Clint Parks, Kyle Kuzma's personal trainer, posted messages on social media comparing James unfavorably to Kawhi Leonard and questioning how hard the Lakers star is working on the side.
Kuzma's trainer really a Bron hater. pic.twitter.com/LkCi8q9auS

— Legendary Lakers (@goldlakerss) December 27, 2019
This obviously raised questions about Kuzma and James' relationship. On Saturday, James said Kuzma came to speak to him about it, and suggested that Parks used James' name to "get some notoriety."
Are LeBron and Kyle Kuzma good? In the wake of social media posts from Kuzma's trainer, I asked LeBron. He said they've talked about it. pic.twitter.com/dMZil6iguc

— Tania Ganguli (@taniaganguli) December 28, 2019
James understandably doesn't seem thrilled, but there has to be an understanding that players aren't responsible for every word that comes out of their trainers' mouths. Kuzma seems to be doing a good job as a team player, so this should end up being a minor blip on the radar.
Lakers fans, show everyone who runs LA with this great T-shirt:
LeBron James re-aggravated his groin injury during his team's loss to the Clippers on Christmas Day, and there has been talk that the Lakers want him to sit out as long as he needs in order to fully recover. Apparently that will not be very long.
LeBron will travel with the Lakers to Portland for their game against the Blazers this weekend, and Shams Charania of The Athletic reports that he is on track to play Saturday night. James received treatment on Thursday and is said to be feeling well enough to play.
LeBron was dealing with the groin ailment and a pulled muscle in his rib area when he missed last Sunday's game against the Denver Nuggets. The Lakers ended up losing, 128-104. Even with the Lakers having lost four consecutive games, ESPN's Dave McMenamin reported this week that several members of the organization have approached LeBron and urged him to sit out as long as he needs.
Those who have followed LeBron's career should not be surprised he does not want to miss time. The 55 games he played in last year were the fewest in a single season for his career, and James has been notoriously outspoken about load management. If he's capable of playing through an injury, he typically does.
pixel2