Though the Oklahoma City Thunder have lost home court advantage in their first round playoff series against the Utah Jazz, Carmelo Anthony isn't sweating things much.
Anthony has been notably loose all season despite his share of struggles, even into the playoffs. He credits his time with the New York Knicks for that.
Melo, who has remained one of the loosest guys on the team through this season, on where that attitude comes from: "New York changed me a little bit for the better, just the way that I'm able to keep things in perspective and understand what's important and what's not important"

— Fred Katz (@FredKatz) April 20, 2018
It would be fair to say that Anthony did not have the best of times in New York, but he's taken some sort of positive out of it. It's not quite helping his shooting, though. While he's averaging a respectable 16 points per game through the first two games of the series, he's shooting an underwhelming 35.5 percent.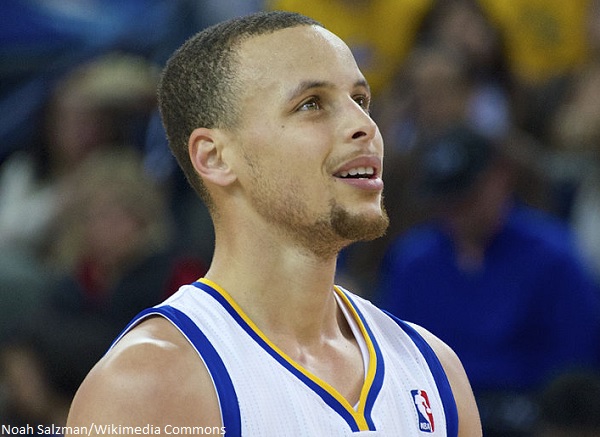 Stephen Curry is getting closer.
The Golden State Warriors guard is still making progress in his recovery from an MCL sprain, and the team announced that he will be back in practice on a limited basis on Saturday.
Stephen Curry Injury Update: pic.twitter.com/NVsX3GdKjn

— Warriors PR (@WarriorsPR) April 20, 2018
There's still no firm timetable for when Curry will be able to play in a game again, but this is progress, and it seems to indicate that talk of an even more extended absence for the guard was premature. The team says he'll be re-evaluated in a week, which may put the start of the second round in some jeopardy, but it certainly doesn't sound like he's going to be out for that much longer.
Boston Celtics guard Terry Rozier isn't getting riled up over the disrespectful comments of one of his counterparts.
Milwaukee Bucks guard Eric Bledsoe pretended to not know who Rozier was after struggling against him in the Eastern Conference quarterfinals, but Rozier didn't devote much thought to that, saying he was already fired up for the playoffs before Bledsoe's comments.
Terry Rozier on motivation and Eric Bledsoe:

"He can't motivate me. He don't motivate me at all. Even the negative stuff when you turn on ESPN, they wasn't motivating me before the playoffs started. I already motivated myself so they were too late."

— Chris Forsberg (@ESPNForsberg) April 20, 2018
The stats are on Rozier's side here. The Celtics guard has scored 23 and 22 in the first two games of the series, with both performances coming before Bledsoe's random act of disrespect. This is frustration on the part of the Bucks guard, and it doesn't seem to serve much of a purpose.
Jabari Parker has not been given an opportunity to make a big impact with the Bucks through their first two postseason games, and he is clearly frustrated over it. However, the former No. 2 overall pick admits he needs to adjust his mindset going forward.
While speaking with reporters after practice on Thursday, Parker was asked about only playing 10 minutes in Game 1 against the Boston Celtics and 15 minutes in Game 2. He wasn't in the mood to provide insight into what Milwaukee has done right or wrong in its two losses, only saying "I don't have those answers" when asked what the team must do to crawl out of its 0-2 series hole. Although, Parker did vow to start being a better teammate.
"Going forward, I'll just try to get a better person, a better man and be there for my teammates."@JabariParker's Full Media Availability: pic.twitter.com/FF1HM9u4sp

— Milwaukee Bucks (@Bucks) April 19, 2018
"It's hard to play four minutes and sit out," Parker said. "Nobody on the team can do that, especially at my position."
Parker acknowledged that he might not be on interim coach Joe Prunty's good side at the moment, though he claims he does not know what the reason for that would be.
"For myself, I just try to be a good teammate," he said. "I'm not getting what I want right now, but there's a bigger picture. I think I did a better job the second game. … Going forward, I'll just try to be a better person, a better man and be there for my teammates."
Parker returned to the lineup in February after suffering the second right ACL tear of his NBA career, and he averaged 12.6 points in 24.0 minutes per game during the regular season. For whatever reason, Prunty has shied away from him against Boston. There have been rumblings that the Bucks are frustrated with Parker's attitude toward the team (and one teammate in particular), so that could have a lot to do with it.
Parker scored just two points on 1-of-5 shooting in Game 2. The Bucks desperately need a win on Friday, but it would not be a surprise if he plays a similar role in Game 3.
Joel Embiid finally made his playoff debut on Thursday night after having to watch his team's first two postseason games from the bench, and the big man managed to make a big statement. Naturally, he wasn't surprised by the result.
Embiid scored a game-high 23 points and grabbed seven rebounds in the 76ers' 128-108 win over the Heat. He was sporting a custom mask for protection in the wake of the orbital fractures he suffered, and Miami made a concerted effort to be physical with Embiid, fouling him a whopping 10 times.
It didn't matter much.
"They were doing everything they could to take me out," Embiid told ESPN Ramona Shelburne after the game. "But they can't guard me.
"I'm going to be a nightmare for them. I love this moment. I love being physical. I love attacking, I love contact, so I felt like (my teammates) needed me in that way."
It was obvious in Philly's Game 2 loss that they missed Embiid's physical presence. There was some concern that the 24-year-old's playing style would be different with the protective mask, and the Heat were probably hoping that would be the case. However, Embiid said the 76ers training staff tested the mask to see what he could withstand before the game, and they were obviously satisfied.
"They [the Sixers] did everything possible," Embiid said. "They were like throwing stuff at it to make sure it could withstand it."
Embiid created a buzz when he went on a social media rant after the Sixers made him sit out Game 2, but that type of competitive edge is what wins playoff games. Without Embiid, there's a good chance Philadelphia would be trailing 2-1 instead of heading into Game 4 with an advantage.
Kevin Durant is dismissing any concerns about an ankle injury.
Durant rolled his ankle late in the fourth quarter of the Golden State Warriors' Game 3 win over the San Antonio Spurs on Thursday night. He was able to walk off the floor after turning his ankle, and he headed to the locker room with a few minutes left in the game.
Durant seems to be fine, but still hate this. Makes me remember every time I've rolled my ankle Couple times had to cut off my shoe. pic.twitter.com/dPwrnTxhGp

— ⓂarcusD (@_MarcusD2_) April 20, 2018
After the contest, Durant shrugged off the injury concerns, telling ESPN's Chris Haynes that he is "fine" and will be able to play on Sunday.
Kevin Durant tells ESPN "I'm good. It's nothing" when asked about his ankle sprain. He said "it was a quick roll. It didn't completely turn. I'm fine." He's a go for Sunday.

— Chris Haynes (@ChrisBHaynes) April 20, 2018
"It's cool. I'm good," Durant said at his postgame press conference.
The Warriors will have two days off before attempting to close out the series in Game 4 on Sunday. Durant led the Warriors with 26 points before rolling his ankle.
Kevin Durant left Thursday's Game 3 between the Golden State Warriors and San Antonio Spurs after rolling his ankle late in the game.
Durant had the ball poked away from him and tried chasing it down, but he rolled his ankle around midcourt while going for the ball.
Durant seems to be fine, but still hate this. Makes me remember every time I've rolled my ankle Couple times had to cut off my shoe. pic.twitter.com/dPwrnTxhGp

— ⓂarcusD (@_MarcusD2_) April 20, 2018
Durant was able to walk to the bench on his own, but he left the court and headed to the locker room with around two minutes to play.
Durant had 26 points, 9 rebounds and 6 assists prior to leaving his team's 110-97 win. In addition to Durant, Shaun Livingston also rolled his ankle.
The Warriors have two days off before Sunday's Game 4 in San Antonio.
pixel2